The Bloke in the Mirror (I.P.)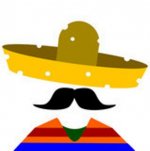 Mon, 29 Feb 2016
The bloke in the mirror,
who smiles and claims
to be my alter ego,
wears a sombrero
and exclaims 'mi amigo'.
But he's not my persona
and he dropped a clanger;
this gringo doppelganger
has a drooping moustache
while my face is smooth.
It is clear he has a plan
to bring all his brood
and be part of our clan
but that would be rude:
he mustn't be allowed.
To get rid of the mirror
seems to be for the best
and the only solution
to dispense once for all
of this cuckoo in the nest.
© Luigi Pagano 2016