Epithets and Expletives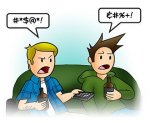 Mon, 29 Jun 2020
1 likes
When a foreigner like me
arrives at Dover
the first things he learns
is that the natives
are fond of two topics,
the weather and the cricket,
with every pronouncement
stressed by epithets.   
Thus we'll hear
that having rained
on St. Swithin's day,
the wretched weather
will remain the same
for forty days.
Blimey!
Anderson only managed
a maiden over
so we let the West Indies
off the hook.
Gadzooks!
Cook scored
two hundred runs.
Crikey!
But the Aussies
won nonetheless.
Strewth!
But in truth
there's an expletive
as bad as it sounds
that is often used: 
a four letter word 
that's followed by 'me'
and it's out of bounds.
Zounds!
© Luigi Pagano