Finance and Romance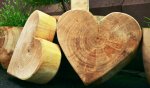 Sat, 17 Mar 2018
I am often told
that finance and romance
don't mix.
That an accountant,
a boring bean-counter like me,
can't feel affection.
But I'll have to dispel
that misconception,
once and for all.
As I examine the books
of my prospective client,
we exchange looks.
She is a brunette,
attractive and slender
and we sit à tête-a-tête.
A song on the radio,
Love me tender,
is full of emotion.
This romantic air
is poetry in motion
and I am beguiled.
Like Elvis sang.
I realise I don't have
a wooden heart.
© Luigi Pagano 2018