A Fisherman's Friend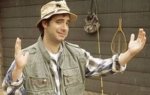 Wed, 18 Mar 2020
1 likes
I am a fisherman's friend
but think that isn't proper
for him to lie and contend
that he has a whopper.
 
I have seen it and I recall
that it wasn't impressive
yet to say it was too small
may be a bit excessive.
 
It was of a medium size;
unlikely, in a competition
to be awarded any prize
despite my pal's ambition.
 
I often hear him mention
that the one that got away
was larger in dimension.
What is he trying to say?
 
I find it quite hard to decide
whether his stories match
as he opens his arms wide
to show how big is the catch.
 
If he tells the truth or not
it doesn't matter in the end;
he's the only mate I've got
and I shall remain his friend.
© Luigi Pagano 2020