Last Rites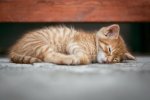 Sat, 18 Nov 2023
2 likes
It was the afternoon of my eighty-first birthday, and I was in bed, with my cat curled on the pillow next to me,  when Alison announced that the archbishop had come to see me. 
It wasn't very often that His Grace graced this abode, in fact, the last time he came was when he administered the last rites to my dying grandmother. 
So I wondered if I had disgraced myself in any way and he had come to reprimand me or even, perish the thought, for a repeat performance.
The severity of that ceremony, the laying of hands and the anointing with chrism, conducted by a clergyman in purple vestments, terrified me and I was determined to hang on to life as long as I could.
I was about to ask Alison to send the old goat away when she brought in my visitor who, to my relief, was not a purple-frocked priest but my friend and partner in crime Archie Bishop.
Either my hearing was deteriorating or Alison's Lithuanian accent had made me believe that my caller was an archbishop rather than Archie who I hadn't seen for a long time and whose reappearance didn't bode well.
I realised that I was in danger of jumping out of the frying pan into the fire.
Having avoided a meeting with a God-fearing man of the cloth, I was about to face the fearsome right-hand man of the Godfather who, no doubt, was here to make me an offer I could not refuse.
Lately, I had declined a few similar offers, wanting to retire gracefully and cut my ties with the Mob.
The smile on Archie's face made me see the irony of the situation; these two 'bishops' had one thing in common: their function was to deliver the last rites.
 
© Luigi Pagano 2023
I.P. - Based on the opening line of "Earthly Powers" by Anthony Burgess