The Moth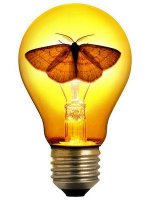 Tue, 25 Aug 2020
1 likes
Fluttering by
the incandescent light
he doesn't see the danger
poor mite.
Mesmerised as he is
by all the dazzle
he's worn to a frazzle
and feeling weak
as he goes round in circles
aquiver with desire
to kiss her glowing cheek.
But he hasn't got a chance
of a lasting romance,
nor of casual flings,
as the intensity of her fire
burns his flapping wings.
© Luigi Pagano