Stateless in New York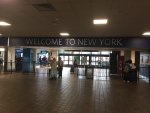 Thu, 01 Aug 2019
1 likes
Based on the 2004 film The Terminal. The film is about an Eastern European man who becomes stuck in New York's Airport terminal when he is denied entry into the United States and at the same time cannot return to his native country because of a lack of I.D. 
                                                                                         ◊ ◊ ◊
I wasn't born yesterday
nor was I born today.
They say I don't exist.
My name does not appear
on any official list.
I must be a figment
of their imagination.
To establish my identity
without a document
is fraught with frustration.
I can't leave the airport
nor can I go anywhere:
I haven't got a passport.
Nobody gives a damn
but I know I am alive:
I think, therefore I am.
© Luigi Pagano 2006
This file is licensed under the CreativeCommons Attribution-ShareAlike 4.0 International license. Attribution: Leonard J. DeFrancisci