What Carlo Did Next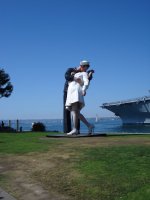 Thu, 06 Mar 2014
He knew nothing of Dick Whittington or his cat
or that the London streets were paved with gold.
No, it was something else that he had been told
that motivated my friend Carlo to have a chat
with all the prettiest girls of the English capital
and thought that what he did would do no harm:
he was only trying to exercise his Latin charm,
then learned that their intentions were marital.
But his intent differed and he wasn't a good sport:
he altered his technique as his resolve was wavy;
he didn't want to get hitched so he joined the navy
and hoped that he would find a girl in every port.
© Luigi Pagano 2014