The Flat on Ashburn Hill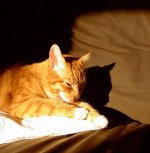 Thu, 01 Dec 2022
Patrick had found himself in sudden need of a flat just as the market had been seized by one of its occasional spasms of lunacy. In a week of frenzied hunting he had been pipped to the post three times, once even by a nice looking couple he had allowed through the door of the estate agents ahead of him, and outbid a further two times, once (he knew because he overheard the estate agents discussing it) by someone who both paid a hundred above the asking price and offered a whole six months rent up front. On Saturday morning, after learning that every one of the four flats he was hoping to view that day had already been taken, he had come dangerously close to losing his cool in the estate agents.
George was in Utrecht for the fortnight. He had been clear. He wanted Patrick and Ryoko Hakubi gone before he came back.
"I absolutely must be moved out before next weekend," he told the estate agent (a desperately young girl who was being very decent about it really). "It doesn't have to be perfect, it can be just a stopgap before I find something better, but it must allow cats and it must be commutable to Whitechapel. I can pay three months upfront if I have to. This doesn't sound like it should be so hard."
The girl went back to her computer, perhaps hoping something might have been added in the last two minutes.
"I'm going to have to start ringing around and see if anyone can put us up on a sofa tomorrow."
"There are places for a higher budget," the girl said.
"How much higher?"
She said a number that would have left him stretched even to buy cat food.
"Could you maybe have someone look after the cat for a while – so you could take somewhere now and keep looking."
He opened his mouth but only a strangled click came out. It was good. If he could have made words he would have regretted them.
"There is..." said an older estate agent, maybe even as old as twenty-four, wheeling around on his office chair. "There is always the flat on Ashburn Hill."
The flat on Ashburn Hill, it was explained to Patrick, they were not showing at the moment due to a threat of legal action by the previous tenant. It was a fully furnished recently modernised one bedroom third floor flat in a period building, small but nicely appointed, and extremely well located on one of the quiet streets near Greenwich Park, and the owner might, if he could pay up front, be willing to let him have it for a strictly limited period, say three months, at a significant discount while the legal difficulties were worked out. He would, of course, have to sign a waiver stating he had been fully appraised of the issues. What were the issues? Apparently the previous tenant heard things go bump in the night.
"It's a period building," the older estate agent said. "Things go bump in period buildings."
"She was an American," the younger estate agent added, as if that explained everything.
Patrick moved in on Friday.
Ryoko Hakubi, when finally released, raised her hackles and refused to step from from her travel cage.
"You don't like new places, do you, miss," Patrick said. He reached his hand in and petted her.
With his left hand he unlocked his phone and texted the new address to George. He looked at the text before sending it. Too cold? No, George appreciated succinct, businesslike messages. It was the grown up way to behave.
"I am not going to let him go dark on me," he told the cat. 
She pressed her head up into his hand and he sent the text.
Later, Patrick followed Ryoko as she explored from room to room and began to appreciate the flat himself. It had been done to a very high standard. Mid-century furniture throughout, which was very much to his taste. A good size kitchen-diner painted in a bold shade of avocado which he decided he approved of. The lounge was smaller and done in earthy red tones which he would not have chosen himself but was fine. There was a window with a reading nook and a view out over the park though, and for that he would have forgiven beige walls. The bathroom was tiled floor to ceiling in white porcelain and the shower had a touchscreen control panel with a fifteen page instruction manual. The bedroom was just large enough for a double bed and had been done in two different shades of plum. Ryoko turned her nose up at it and did not set foot across the threshold.
"I agree," he said. "One colour too many."
One colour too many was one of George's phrases. His verdict on the décor of every Victorian home they visited and once, scandalously, on a William Morris wallpaper.
He sat on the reading nook and waited for her to complete another circuit of exploration before she settled in his lap. The view from the window, the sun setting over the park, was wonderful, but whenever he turned back to the room and his forlorn boxes of books waiting to be unpacked, he was seized by loneliness. He composed another text.
Flat is genuinely lovely, shame I'm not in it for long. No fun moving at my age I can tell you that. Still loads to do but Ryoko settling in. XX
He looked at it, deleted the Xs, and sent it.
"Do you miss him, girl?" he asked Ryoko.
She bristled and stood up and hissed. He almost jerked his arm away for fear she would bite him but before he could she leapt to the far side of the room and crouched with her back to the wall. There was a moment of silence and in it, right next to him on the reading nook, Patrick heard somebody sigh.
He did not react. The thing was so unexpected and yet so mundane, that he was more perplexed than scared. He looked around of course, and finding nobody there, and hearing nothing else, what was there to do? Across the room, as suddenly as she had been alarmed, Ryoko appeared to calm again, and licked her paw as if nothing had happened.
This was it he supposed. The thing that went bump.
That night he slept poorly on the unfamiliar bed and woke often. Every time, half submerged in sleep, believing George was there next to him until he opened his eyes and saw the pillow was empty. At one point, still befuddled, he stretched his arm out into the space where George was not and was startled into wakefulness by finding it cold. He groped in the dark for Ryoko, who always slept in the bed when George was away, but could not find her. He turned over to face the bedside table where he could see the green light of his phone on charge. He dropped back to sleep perhaps - or half dropped back to sleep.
The next thing he knew was the mattress shifting as if someone else on the other side of the bed also turned, and he felt a tug on the duvet. He lay there, somewhere between thinking it was George and knowing that it could not be. Then he felt a hand on his shoulder.
His froze in fright.
The hand stroked him from his shoulder to his elbow. It was weak. Soft, fumbling fingers, almost without weight. Not like George. Even when George had been gentle his hands were sure and certain, you could feel the strength in them.
He became aware he was holding his breath. The idea of turning and looking at whatever occupied the other side of the bed, or even trying to push it away, touching it rather than having it touch him, was impossible. What if it took hold of his hand with those feeble fingers? What if he saw its face?
The hand seemed to lift away for a moment and then rested on his midriff where he could feel acutely the lack of strength in its grip. The lack of strength disgusted him somehow. It slid around his front so that a whole arm held him in a loose embrace, fingers curling through his chest hair. He felt, or maybe imagined he felt, a breath on the back of his neck and in a sudden, almost involuntary motion, leapt from the bed and turned on the light.
There was nothing there.
He spent the rest of the night curled up uncomfortably on the designer sofa, Ryoko Hakubi tucked beneath his chin.
So the flat is haunted.
He started to type out the details but changed his mind. If George wanted to know he could bloody ask, and anyway, he liked the nonchalant provocative simplicity of the text. He sent it as it was.
The fear of the previous night had passed with the daylight and he sat at the dining table with a cup of coffee and a bowl of muesli more annoyed at his lack of sleep than anything else. In order to take Friday off work to move he had agreed to go into the office on Saturday. There was plenty of time but the coffee was not good (must buy a proper machine) and he was not hungry for muesli. He gathered his things and left.
When he got home in the evening Ryoko snaked herself around his legs and purred furiously. He checked his phone. George would be home by now he knew. He had watched the flight arrive on the Heathrow website.
Let me know if I've left anything or taken anything I shouldn't. It was a bit of a rush. No harm meant.
He fed Ryoko and then composed a list of what he needed to feed himself and went back out, dawdling through every aisle of Waitrose to kill the evening. As he was putting away the shopping he felt someone wrap their arms around him from behind and rest their head on his shoulder. He shrugged violently and leapt across the room, pressing his back to the wall. The fridge door hung open and a container of tabbouleh salad rocked where he had dropped it on the floor, then settled upside down but undamaged.
Ryoko mewed from the lounge and he hurriedly finished the unpacking and joined her, turning on the telly just so there was sound and voices in the flat.
His phone sat silent on the vintage G Plan coffee table.
You've blocked my fucking number haven't you.
He regretted it as soon as he sent it but it was sent and there was nothing he could do.
Ryoko suddenly hissed and bared her teeth at the bedroom door.
"This is it, miss," he said, stroking her neck to calm her. "We paid the rent up front and we're stuck here."
He went to sleep on the sofa again.
The following day, Sunday, he met a mutual friend for coffee and a walk in the park so he could tell his side of the story. It was nice of her, he supposed, but afterwards he felt like he had been through the divorce courts. To change the subject he had told her about the ghost and found that he was almost defensive of it.
"I don't think it's malevolent," he had said. "It terrifies me but in the same way spiders terrify me... because they're so otherworldly... so inhuman it's abhorrent... abominable. George held a tarantula once, when we were in Belize, but I couldn't stand to be in the room. They said they'd defanged it but it didn't make any difference. I wasn't scared it would bite me, I was scared it would touch me. I was scared I might see it close up and that I might... what would be the word... that I might fully apprehend it, which I thought would be more than I could take."
In the flat he found that Ryoko Hakubi had finally ventured into the bedroom. The midday sun was streaming through the window and onto the bed and clearly it has been too much for a cat to resist.
He sat on the reading nook and opened a book but only laid his phone in the fold of it.
I slept on the sofa to avoid the ghost but now my back hurts. I don't care if you've blocked my number I'm telling you anyway.
The texts had become something like the way the bereaved still talked to their dead. It was the most natural thing in the world for Patrick to tell George how he was feeling. The fact that George no longer wanted to hear did not change that.
Something caught his eye.
He carefully inserted a bookmark, put the book down, and quietly stood up.
There it was again.
He tiptoed closer to the bedroom door.
Ryoko Hakubi's fur was moving. Rustling up in places and then smoothing back down as she was stroked by an invisible hand. Patrick stood almost in the doorway and watched. Her eyes were open and she was purring a low lazy rumble of contentment. She looked up at him almost as if daring him to disapprove.
OMG It's petting Ryoko and she's allowing it.
He spent a long time watching before padding back to the seat. He was still sat there when the sun slid away from the bed and Ryoko strode back into the lounge to join him.
"Well, well, miss," he said. "Well, well."
He remembered the kitchen. How he had shrugged violently, the way you would shrug when you were angry with your lover and did not want to be comforted. How the head on his shoulders had appeared to jerk itself away when he had done that.
I think it's needy. I think it wants contact and she understands that. I am totally shipping my ghost and my cat right now!
That night he carefully smoothed out the duvet and plumped the pillows before bed. He wore a t-shirt, something he did not normally do, and lay down facing outward, his phone configured to display the time when on charge and propped up so he could see it. He waited, and at some point he slept, and, shortly past four in the morning, he woke with the knowledge that somebody else was lying beside him.
"Behave," he whispered.
The hand crept over his side, and he felt it spread across his chest trying to hold him.
"Okay," he said.
For a while it stayed there, only the thumb of it lightly rubbing at the bottom of his collarbone, and he almost began to feel sleepy again but then it lifted and stroked its way down his stomach and, he felt it clearly, tried to worm its way back up underneath his t-shirt.
"No," he said, and pulled the t-shirt tight so there was no way in.
The hand rested on his belly, the fingers making small circular movements. He felt the unmistakable warmth of breath on the back of neck and he shivered in response but controlled his urge to leap away. He was offering this use of his body, sacrificing himself to satisfy the need of the thing. He actually felt devotional about it. A mortification of the flesh. Like a monk fasting. There was, too, behind that, a small part of him which just wanted to be touched.
The breath on the back of his neck quickened and the hand cautiously, uncertainly, reached down toward his crotch and then, before he even realised what it was doing, it slid beneath his pyjamas and wrapped it's fingers around his penis.
"No!" he snapped, and jerked his elbow back so violently that he threw the thing off him. "Not that." His voice like a schoolmaster.
The thing retreated. He felt the weight of it shift away in the bed and then lift.
I've done it. I am smug as a banker on a Lime Bike. Another one of George's phrases. I have set boundaries and made it respect them.
It was Monday and he had decided to work from home, his laptop and papers spread out over the kitchen table. Coffee from the place he had found just down the road. Ryoko Hakubi making occasional appearances on Zoom calls.
In the afternoon she left him alone and he knew she had gone to where the sunlight hit the bed. After a while he followed and stood in the doorway and watched. The invisible hand stroking her as she snaked her spine and pressed herself into it.
In fact I'm even a little fond of it – though that might be because I'm missing you.
He read back the text after he had sent it. It was too much. Not the cool, relaxed ex-boyfriend he wanted to be. Then he changed his mind. Why should he be cool? Why should he be relaxed? If he didn't deserve to be needy and annoying now, then when?
Ryoko purred loudly. 
"You've changed your tune haven't you miss."
She looked up at him.
"I think we might find a way to be happy here," he said. "The three of us."
He was just starting to laugh at what he said when Ryoko looked over her shoulder and squeaked.
With a startling suddenness she stopped moving. The moment was incredibly stark. One second she was a living, breathing, thinking thing, wallowing in the pleasure of her senses. The next she was not.
Patrick collapsed onto his knees at the foot of the bed and reached out fearfully toward her body. It was warm but still. Entirely unresponsive. He picker her up. In so far as a cat can show fear her face showed fear, her teeth bared and her eyes wide.
He knelt there and made a small, helpless, whimpering sound that he did not recognise as himself. He felt tears come – the first time since George had thrown him out.
A hand rested comfortingly on his back.