War makes insomniacs and bad poetry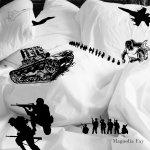 Thu, 10 Mar 2022
2 likes
So I'll need to find an earplug
And the bed's gotten hot
And I'm wondering if we need
Some psychological support
The bed's gotten hot
At least it hasn't gotten hit
And I'm wondering if we need
Some psychological support
As the bombs keep falling on
And the tweets keep rolling on
And we keep not being involved
As we seek psychological support
For the anxiety of this war
That we're not even fighting
Outside of our heads
And the pit of our stomachs
And the feed of our apps
When will it end?
And until then, my friend
Is it insensitive
to look for my 
missing earplug
that is not a missing
person
and be annoyed at my cat
keeping up at night
instead of the bombs?
Is it okay
to still live?
------
I find that action and help are a balm for anxiety and that feeling of impotence that hits us in the face of catastrophic events. For that reason, I am sharing here this list of organisations active on the ground in Ukraine. It was created by a dear friend of mine with a background in social work. I decided to translate it into English and create a public Google document to share it. Most of them are local, smaller organisations and fundraisers that can get help to where it's needed faster than big international groups. Many of them help more vulnerable communities, like children, the elderly, the homeless, animals, LGBTQ+ people. Obviously, there are many more organisations active on the field right now. This is a just good start if, like me, you feel that urge to do something and would like pointers.