The Battle of the Somme. (1st Draft)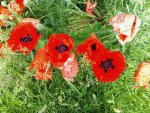 Fri, 01 Jul 2016
The Battle of the Somme.
The air was foul,
thick and strong.
The war was strung
with barbed wire, 
the rats ran.
The men who knitted,
sang, smoked an odd 
woodbine.  Made cards
with bits of anything
that wasn't wiped
in blood. 
The Bible
quoted unreligiously
popped up, and down
the line.  Socks adorned
a lucky few.  Socks
were precious items.
Boots never fitted.
Were all the same.
All the same size.
All the same colour.
A unform boot -
thick leather.
Poems were written
in tiny notebooks.
In letters home
which lay in pockets 
of the dead.  Some 
were pulled out
with the dog-tag
an identification.
People were buried
in collapsed buildings
along the line in France.
We discerned them.
Took time to dig down,
if only to pray for them 
and close their eyes - 
to know that someone
had wanted to care.
The Somme.  
People were wounded there.
People who wanted to come home.
Who wanted to love and live
in peaceful times - who wanted 
and wanted, and wanted
and spoke to God, who listened,
sadly, of people who once 
were back there.  Who might not be
now.  Who might be the one
they were pulling out, of the building
who might be lucky.
When the war was over.
The old soldier in the canteen
lifted up his leg with both hands.
He said, "God sent you to me."
and was content.  His letter mailed
to his wife, said, "Thank God 
each night.  I nearly bought it!"
He picked up his Tea, let go the 
useless limb.  Smiled.  His life
was more than a leg.  His life
was full of light.  He'd seen God
and it beamed out of his eyes.