norwich - thoughts.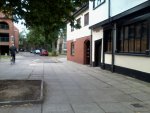 Tue, 20 Jan 2015
57 words: Norwich.
A knight on
horseback rides down St. Stephens street,
his armour is
tarnished from the bloody dragon.
Flown from Dragon
Hall. History totters.
He is unhorsed as
the stallion finds new life
and rampart with
desire thuds towards the Park.
At street level he
assumes the position: repent.
and the Scottish
bagpiper plays him up, up. up.
end
Norwich.
Norwich: a place to
worship the Moon.
One actual physics,
the telescopic arts.
the other, a
physically active pursuit.
the Norwich reply.
Perfectly balanced!
end
Oh place of coffee
houses, where once the soul found rest,
now has become the
site of much distress, for in the water lurks
a pestilence bold
and scary. The coffee gone all grainy. It's down
to the pub with you,
where hops are brewed and ale is drunk
and all the
conversation blends into a potent brew.