The Existential Fate of Original Thought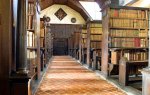 Wed, 20 Jan 2021
Every day had been the same for so long now. Epicurus sat in his leather backed chair, cradling a glass of scotch, ruminating about life and the arts. The drawing room was large, an ornate fireplace showcased a classical painting hung above it. Reaching for iron tongs, he placed more kindling in the crackling fire. The grandfather clock in the corner of the room started to chime, its rings a hollow sound signalling midnight. He sat stoically, absently stroking his whiskers as he considered things. He wished his learned friend Carl Jung was still around. They had philosophised many times. Epicurus did tire of the constant, subliminal psychoanalysis that slipped in without him noticing. He didn't think he had that much of an ego and his dreams really were his own business. Still, he had been glad that his confidante had gone on to influence so many others including an author who had sent him his book via the vagary of the Royal Mail. "The Seven Basic Plots" by Christopher Booker broke stories down into basic categories. The more the ageless Greek read, the more he understood that this Jungian offshoot was probably right and the collective works of everything probably fitted into one of these definitions.
The bearded philosopher rose up ceremoniously and paced towards the wood-panelled door. He held out an old, Victorian lamp to light the way. To an observer, it might have looked like a scene from a Dickensian fable. This was the ritual every night; it had been the same for hundreds of years. He glided down the corridor, open-toed sandals and flowing robe hardly concurrent with present times, passing dust coated portraits and busts made of plaster standing on tasteful, regency furniture. Epicurus lived in the mansion alone and had done so ever since he could remember. He did think it might finally be time to employ a housekeeper but they cost money and he hadn't made any from his writing in a very long while (if at all). He was archetypically poor but then weren't most authors? Apart from JK Rowling. At the end of the passageway was another ingress which he duly opened, turning a rusty metal key in the lock.
He entered a gargantuan, book-laden library. Wooden shelves housing rows and rows of prose, ran horizontally from one end to the other. A narrow gap ran down the middle leading to an open, box-shaped area that featured a large desk with a seat on the other side. Shuffling along, he made his way passed numerous tomes and took his customary pew, slipping legs underneath the workspace. In the corner was a pot of black ink with a feather quill sticking out. Epicurus looked down at a white sheaf of paper staring back. An Anglepoise lamp shone, lighting the work space enough to see at this time of night.  He found himself staring at the same piece of parchment, night after night, month after month, year after year. He knew of the advent of word processors and computers but neither would add any value when he couldn't eke out a single word.
 In front of him was a crystal decanter from which he poured himself another whisky into a tumbler. He glowered at the chip on the side and added a new carafe to his mental shopping list. It was a long list. He couldn't remember when he had started drinking firewater or, indeed, why he imbibed it all. We drink to forget, someone had said once. He glanced over at the windows which were covered by thick, floor length curtains. Sooner or later an original thought would enter his head or was he really just the summation of an undetermined number of previous writers? Had he simply absorbed all of their creative output and could now only employ sleight of hand to make a new piece seem like a prototype? He had read somewhere that literature was now more about how something was said rather than the actual content itself. An analogy had been made with an Irish comedian – Frank Carson – whose catch phrase was "It's the way I tell 'em." He had read an old joke book by the jester from the Emerald Isle. He did like the gags but didn't think that they sat so well with his penchant for the works of Plato.  He pondered The Great Conversation – the ongoing process of authors building on the work of literary predecessors. Had every scenario conceived really been scribed by the Greeks and the Romans?
Epicurus sipped from his glass and gently placed the drink back down. He sat back and stretched out, rocking the chair backwards. He yawned, both hands gripped on the arms of the chair, and pushed himself upright. Wandering down a random aisle, he scanned book titles, a myriad of leather bindings and coloured spines, and settled on a recent addition called "Blithe Spirit" by Noel Coward. He took the novel from its place amongst the other hardbacks and turned to the synopsis on the back. He liked the idea of an author with writer's block summoning his dead's wife's spirit from beyond the grave. He also liked the notion of a play being captured in a book. Leaning nonchalantly against the bookcase, he opened up the first page and began to read. Finding himself chuckling, the chapters flew by and, before he knew it, he was savouring the final line. With great care, he replaced the volume back in its place. He stopped and contemplated whether this was a way out of the infinite cycle of creative constipation but realised there were a couple of problems with this particular plan: a) He didn't have a dead ex-wife and b) he didn't know any spiritualists.
At the far end of the repository was an exit that led to a different part of the house. Epicurus crept along the carpet, reaching for the latchkey that hung alongside the lock on a small hook. He slipped it into the hole, twisted and opened the door. On the other side was a long, rectangular atrium. Elaborate chandeliers hung from the ceiling and candles flickered from their affixed holders on the walls, casting random shadows. There were two, long rows of desks, each with an old typewriter employed thereon. The clatter of keystrokes was deafening with a PING from the metal carriage return every time a line was typed.
Twelve monkeys furiously blasted away, each with its own station, their master looking on at banana-fuelled efforts. Epicurus wandered over to the nearest chimpanzee (his favourite called Willis), pulling the sheet of vellum from the machine and inspected the contents. Pushing his glasses closer to the bridge of his nose with his middle finger, he focused, reading the words meticulously. He screwed it up in a ball in disgust and looped it into a waste paper basket nearby. "Unintelligible…again." He muttered. The simians had stopped working whilst the impromptu inspection was in progress. Now it was over, they started shrieking and shouting, lips peeled back in grins. They loved their work in spite of its ineffectiveness. Epicurus had expected the production of the complete works of William Shakespeare for a while now. He planned to announce them as long lost versions found under the floorboards and sell them at Sotheby's for a significant, undisclosed sum of money from an anonymous, winning bid made by telephone. The wait went on. Shaking his head, he ambled towards the way out that led to the gardens.
Epicurus stood looking out at the lawn area that became an orchard at its boundary. In the middle of the expanse of green was a circular area carved out to allow a single tree to grow and prosper. Its branches were covered in leaves, proudly showing off a plethora of red apples. A thin veil of ethereal mist hung over the acreage as the sun readied to reappear on the horizon at dawn. The frustrated thinker sliced through the sheen of dew that parted as he approached the sapling. At the first rays of sunlight broke through, he spotted a woodpigeon perched on one of the branches. It billowed and cooed. Epicurus fretted about the neighbours being woken but then remembered that there was nobody else around for miles. He lived in the wild and woolly, outer border of Wiltshire where he was more likely to encounter a sheep than a person. He stared at the song bird and wondered whether anyone had written about it. If they had, was it a story about today's version of the feathered creature featuring this morning's song and in the context of this specific moment? He thought it was unlikely even if it would make for a really dull story. Maybe all readers wanted was the next tale, consumer appetites insatiable. Another day, another infinitesimally small variation on what had gone before. Had he postulated this escape route before now? Back to the cumulative effect of Talisker.
Epicurus wandered back to the library. Taking the arcane writing instrument from its container, he dipped it in the ebony solution and scrawled the first words he had managed since, what fell like, the dawn of man. He dabbed the pen on a blotter and placed it flat on the leather surface of the desk. Picking the manuscript up, he blew on it to dry off the imprint. Looking up, he thought about everyone that had ever made an effort to translate original thought into actual content. Reflectively, he peered at his latest odyssey and mouthed "Once upon a time."
Image at https://commons.wikimedia.org/wiki/File:Merton_College_library_hall.jpg. No known copyright issues. Author acknowledged at link with access to license.