Leonard Cohen died today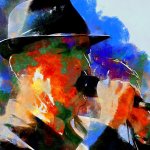 Thu, 23 Mar 2017
(written on the 11th of November, 2016)
Leonard Cohen died today.
Amidst a flurry of political fallout
A great man left the world.
If anything could teach us the stupidity of hate
Surely it must the parting of such a gentle soul.
But the crowds will surge on,
Unknowing what they've lost.
And the world will burn,
Bent and broken,
As it gradually forgets.
His legacy will pass,
The tears will fall from another face,
Another heart will bleed,
But some of us will remember
And profoundly miss
The man we wish we'd known.
It is a bold arrogance
To write poetry for the poet,
But Leonard Cohen died today,
What else am I going to do…