The Audience Effect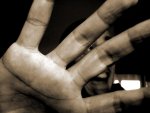 Tue, 09 Aug 2016
The return was like a defeat, not a homecoming.
The lounge of the social club still smelled of cigarettes, the wood veneer chipped at the corner of tables.  Mainly it was quiet, occasionally punctuated by laughter that mixed with rough coughs.
'They cannot see me,' she thinks, 'only the shape of me.'
Her Dad, her beloved Dad, tries to make light of her presence.  "Hey, Bridget, look who's back," shouted with forced pride at the woman looking at her from behind the bar, "Our Hannah. Do you remember our Hannah?"
None of them remembered the Hannah that had come here years ago.  They all remembered the Hannah of now, the face in the newspapers and television, the Hannah of Instagram and Facebook.
"Aye pet," the woman says.  "I remember."
One of her Dad's friends is talking to her.  "It must be a relief, like.  To get away and that.  I didn't believe owt them papers said. Bastards."
She looks around at the dartboard, the snooker table, the television on the wall showing Sky Sports.  Some of the younger men look at her, curious.
"Hannah pet," her Dad says, "put your phone away."
It is as if her life never happened.