Flag day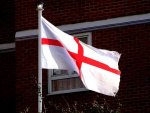 Sun, 23 Nov 2014
They'll fucking kill him.  I know they will.
Drawing the curtains I see my son trying to set fire to the flags hanging from the upstairs windows of the house opposite ours.
I run across the street, grab at the bone of his pale ankle to pull him from the stupid stuck-on columnated porch.
"Get down from there" I hiss, trying to stop the street from waking.  One of the flags has already burned and the other comes down in his hand as I pull at him.  
I remember catching him in my arms and holding him to my breast but now he is a tangle of elbows and knees on top of me.
He thinks I am like them. He doesn't know the warm slickness of spit in your face; the cramp at the shout of 'paki lover'.  Doesn't know that I gave that up, went with his Dad so I could be here, safe.
So he'd be safe.
The lights of the house come on.  I don't know what to do.
He doesn't know the reason I say nothing about the flags is that I know exactly what they mean.
They'll fucking kill him.
They'll fucking kill us.