The Elephant In The Room.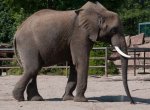 Thu, 21 Sep 2023
I am sure when he was born, his parents didn't think he would be one day described like this.
I was in my favourite shop, it is a big shop, and from the other side of the store I saw him.
I decided to go closer. I went closer, and tried not to look. I looked, he saw me looking, I could see other people looking too.
He wasn't fazed. He was used to it. He was with a woman, the woman looked 'OK,' if the woman was by herself, she would not have looked 'OK.'
They seemed happy and relaxed, like everything was normal, but this was no normal. It was fascinating.
I did actually think, of taking a photo, from a far, but I knew that was definitely out of the question! That would have been wrong, so I dismissed that thought.
I walked away, but still I was drawn to him, so I came back over to where he was. I know it is rude to stare, and I try to make a point of not staring.
My eyes were fixed, almost like they had a mind of their own, I just wanted to look one more time, but one more time, wasn't enough, oh dear.
He copped me looking. I didn't feel bad, just wished I hadn't got caught. But caught I did, several times. It was an odd excitement.
He was pleasing to the eyes, in perfect proportion. Usually someone the same as him, can sometimes look, different, odd, unusual.
He didn't look unusual, in fact it was the opposite, he looked perfect.
I concluded, that nothing in here would fit him, except, maybe a towel, or a nice scarf. Or a flask or a nice mug. No, on reflections, it's a very flexible shop, so he and she would find plenty to buy and love, just like I did and have done.
I think I left the store before them, or maybe I went upstairs, I didn't see them go.
When I got home later that day, I told my family what I had seen.
I told them, "Today I saw a giant!" I pointed to the picture rail high above our door and said, "It is hard to tell but I think he was as tall as that!" Each family members in turn said, "No way, he couldn't have been that tall." I said, "Yes, or taller."
He was a good-looking lad, I wouldn't have been surprised, if he was tiny at birth, or big. I don't know if that was his sister with him, or his girlfriend.
I wish him a good long life. It is not every day that I see someone that tall.