When I'm sad I eat sweets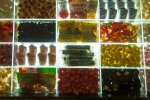 Sat, 02 Oct 2021
3 likes
which isn't going to help anything. Being sad is hard though
Robbie WIlliams will tell you all about that, and his dad
Peter, having to see his son go through so much fame
and addiction. It's a tricky bugger, sadness,
when it arrives like an uninvited guest, a suitcase
in their hand at your front door. 
Well I guess you're going to be staying a while,
I'll go and fetch you a towel and make your bed
and I don't realise I'm doing it, I guess it's because
I live near a shop, I just put my shoes on
and suddenly, wearing the kind of clothes
a costume designer would pick out for a sad character
the type that will never have their end of series resolution..
I am scanning the Haribo through the self service machine.
It's Fruit Jellies I really have a taste for, the sadder I get
the more Fruit Jellies I'll buy, except they don't sell them
in the shop nearest me, I have to walk quite far for those
which makes it worse, I guess, because I'll think
look at me, exercising, what a healthy lad,
on top of the world, despite the thing I'm sad about
I've managed to get out of the house
and I read a Twitter thread of some big dude
who is now a skinny dude, he lost eleven stone
and said it's all about the sugar, and sitting on my 
swivel chair I thought good idea, big lad, 
I'll stop eating sugar too, and I do
until I'm sad again. I feel okay today
and I've squeezed in an extra designated
teeth cleaning slot in the afternoon.
It's not exactly going to make anything better,
but at least it feels like something