Mapleville Chapter 1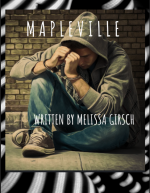 Sat, 10 Aug 2019
Chapter 1.
The Breaking Point.
His face contorted in all-consuming anger. His nostrils flared, his eyes flashed and closed into slits. Then clear out of the blue; she never even saw it coming, he decked her right in the arm.
 "And you better not tell anybody about this Bitch or I'll punch you again," he said.
He ran upstairs into his room and slammed his door. Gina was shocked. She went upstairs into her bedroom. She removed her pink cardigan and saw a faint grayish purple fist-shaped bruise starting to appear. "Great another one how will I explain this one to George?" "What am I doing? Here we go again. I am trying to cover for him. But why I don't deserve this. Ricky hitting me was not my fault". She kind of just flopped on the floor beside her bed leaning on the side of it. She brought her legs up and rested her arms on her knees. "But what if I had just said he could go to the party then this would've never happened. Stop, stop this was not my fault; I'm the parent, and he is the child. I have had it; it's now, or never this needs to stop". She put her head in her lap and began to sob ever so quietly. A few minutes later, she composed herself. "I can sit here and feel sorry for myself or do something about it."
She pulled out her phone from her pocket and began to dial. As she heard the first ring, she started twirling her long brown hair around her index finger on her left hand. After the second ring, she hung up due to fear and embarrassment. She was a grown woman, and she let her seventeen-year-old son walk all over her and verbally, and physically abuse her. She thought it was silly to be afraid of her seventeen-year-old son. It's not like he spent a lot of time at a gym, or had mad karate skills; in fact, the opposite was true. He was more of the couch potato kind. He was short and kind of chubby. And he probably wouldn't even know how to fight his way out of a paper sack. She couldn't do this she believed It was her fault, that she was too controlling and that she should have just let him go to the party.
She always was a people pleaser never wanting to cause a confrontation. "Wait a minute; what am I doing? I am the one with all the bruises, how long can I let this go on until he puts me in the hospital? Until he accidentally kills me?" 
She picked up her phone and pushed redial. This time she stayed on the line, and a man answered.
"Hello, Jackson Police Department Sgt. Parker Johnson speaking, how may I help you?"
"Hi, I called about my son; I'm at my wit's end he frightens me. he need help; he hit me a few times, and not  just a little hit; I mean my son  punched me gave me a pretty good size bruise on my right arm he is out of control!"
"Okay, Ma'am. what is your name?"
"My name is Gina Martinez."
"You wouldn't happen to be related to officer Martinez?"
"Yes, I would, I am his wife."
"What is your son's name?"
"Ricky, I mean Ricardo. His legal name is Ricardo, but he likes to be called Ricky. He named after his great grandfather, ya know. My grandmother wanted me to name my baby after her, but I had a boy and I not name a boy Rosa, so we name him after my grandfather Ricardo, but that name just too formal to me, so I started calling him Ricky, and it stuck. Don't call him Ricardo he hates it and he gets mad Oh my goodness here I go again I am rambling. I Ramble when I get nervous sorry, I never called the police before but I am just so fed up with the way my son treats me, you know he once pulled out a butcher knife on me. I didn't know what to do anymore." 
"It's okay, please calm down Ma'am, please take a breath, and it will be okay. Is Ricky home right now?"
"Yes."
"Is he bothering you right now; or do you need E M S?"
 "What?"
"Do you need E M S, an ambulance?"
 "No. I don't think so. I'm okay; shook up but okay."
"Has Ricky ever been in trouble with the law before?"
Gina tapped her freshly manicured nails on the floor.
"Nope," she said.
"How old is he ?"
 "He is seventeen, Sir."
"From what you just told me, I believe he needs help. What he has done is wrong and illegal. He has committed a crime; simple assault, domestic."
"So, my son should go to Jail?"
 "Now, I did not say that precisely. Police should come, and speak with him. Set him straight, maybe scare him a little? You know most kids are scared when police want to talk to them about something they have done wrong. You know Ricky could get arrested today, and that could be what the boy needs. Sometimes kids need to learn the hard way. They need to see and experience the consequences of their actions. We will send someone out there, but it might be a while; like a couple of hours; because technically this is not an emergency and we have a lot of calls to clear. Where do you live?"
"on 35 64 squirrel Rd."
"Thanks, and you try and have a better rest of your afternoon Ma'am."
"Okay, thank you very much," Gina said.
She hung up the phone. She went into the kitchen to get a drink. She hoped she had not made a mistake by calling the police.  Having the cops come could be a good thing; finally, Ricky will see there are consequences for his actions; he will not just get away with everything. Could he go to jail? But she won't I won't let him. George Gina's husband of fourteen years arrived home. He came into the kitchen. Gina said hi to him and kissed him.
"How was golf with Ted?"
"Good, I'm a slight bit Rusty though. Where's Ricky?"
"His room, I think he is playing video games."
"Oh, I was just wondering. Ricky sure is quite."
George settled into the family room to read his latest issue of 9 1 1 Magazine. Gina put a pizza in the oven for dinner.
"Dad Chow time!" 
Ricky screamed as he had a seat at the table. George came and sat at the table.
"There was no need for you to scream for me Ricky, Anyways it's your turn to say grace."
"Do I have to?"
Yes" said Gina."
"Fine! rub a dub, dub, go God Let's eat I'm starving!" Ricky said, really fast.
He grabbed a piece of pizza. He steams shoveled it into his mouth, nearly choking on it.
"Ricky!" Gina shouted as she glared at him.
"What woman!" Ricky shouted back with a mouthful.
 "Don't talk to your mother like that and you know what."
"Okay all right, I get the picture. In the name of the father and of the son and of the Holy Spirit, bless us o Lord, and these our gifts, which we are about to receive, from thy bounty through Christ our Lord, Amen." That was the only formal dinner prayer he knew.
"People are you happy now?" Ricky said.
Neither George nor Gina responded to Ricky. They all had a rather quiet dinner. No one said much of anything at all. Quite dinners were nothing out of the ordinary for this family. Gina always tried to make it a priority for them to have nightly dinners together. But she wondered if they all were indeed together.
Yes, they were all sitting together at one table but were they together? They were all in their separate worlds; not engaging with one another. George was still reading his Magazine. Ricky was texting on his phone. And Gina, well she was lost in her thoughts just daydreaming mostly about Ricky and how her arm was still really hurting her. After Ricky finished eating, he ran off and went to his room. A few moments later, George looked at his watch. He got up and got ready for work. When it was time to go, George said goodbye to Ricky and his wife. He had no idea what his wife and Ricky had done. Or that he would be back before his shift was over.