Afraid to sleep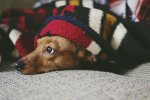 Wed, 03 Aug 2022
Why am I afraid to sleep?
Is it cos I wake and weep?
My past creeps up and I'm afraid
My bed is there freshly made
I'm petrified of going to bed
I'd rather watch tv instead
For tv is fiction, my troubles real
I close my eyes and I can feel
The trauma from the past relived
Over and over, I need rid
One day I'll go and close my eyes
And wake up to a big surprise
All my daemons laid to rest
In years to come I'll laugh and jest
For I'm afraid for sleep to come
Is my past the main reason?