The Eulogy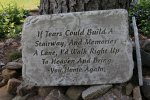 Sat, 12 Jun 2021
I cleared my throat as I stepped up to the podium, shaking, crumbling the piece of paper in my right hand from nerves, my left containing a handkerchief. I didn't like public speaking, especially to a room filled with strangers. I cleared my throat as I adjusted the microphone and could hear the whispers of the congregation who all wondered who I was. I waited for the church to fall silent before I uncrumpled the piece of plain white paper that had arrows going hither and thither in a haphazard manner that mirrored my thoughts.
'Hello,' I began, I hated hearing the sound of my own voice as it reverberated off the church walls. 'My father, James Connelly, was a good man, a kind man, who had a large heart.' I looked to the front pew, recognising one person that I knew from my childhood, but hadn't seen in years being comforted by an absolute stranger. I returned my gaze to the lies written on the page. I was, to the utmost extent, people pleasing by saying the untrue words.
I glanced to my right and looked pensively at the coffin. Yes, it was my father, but I was damned if I was going to let him go into the ground with his 'loved ones' thinking he was a good dad. I crumpled up the paper in front of me and cleared my throat once more.
'My dad is not the same man you are all mourning,' I started. 'The man I knew him to be was mentally, emotionally and verbally abusive.' The whole church gasped. 'The man I knew was a liar and a cheat. He left my mom when I was seventeen, not once or twice, but four times over a five-week period. He left every Friday and returned on a Monday, after spending the weekend with his girlfriend. My mother, who you can notice is not here, wasn't ready to let him go. I on the other hand, witnessed the destruction that lay in the wake of his departure every week. It was I, a then seventeen-year-old girl, with health issues, who kicked him out of the house, as my mother was unable.
'I nursed my mother, and younger brother, who you will also notice is not here, as they mourned a man whom we all had trouble recognising towards the end. He had become moody, distant and secretive. He had been living a double life for a year prior to my mother finding out that he had been engaging in an affair.
'The day before he left, he moved all of the downstairs furniture into the shed, ready for the workmen to gut our house. It was the last positive thing he did for my family. When I say my family, I only include my mother and brother, because that was the new reality. My family, lived in a construction site throughout the summer of 2002, only the rooms upstairs and the kitchen were habitable.
'I will always remember the insomnia I suffered from that year, an insomnia that followed me into adulthood. When my poor mother finally went to sleep, my younger brother by her side, I took to my hands and knees where I scrubbed the tiles on the kitchen floor. I found that when the kitchen tiles didn't have debris all over them, the carpet on the landing didn't get as dusty. My mother who was almost catatonic with shock that whole summer didn't even notice. I was the one who ran the house after his departure.
'One of the many positives that eventually transpired from my father leaving, was the peace. There was no more arguing, no more shouting, no more bullying. As I was seventeen and my brother was thirteen, there was no battle over custody, quite the opposite in fact. It was my mother who rang my father to remind him he had two children who missed him and wanted to see him. I overheard her beg him to take us somewhere, anywhere, for some quality time. It came to the point at which myself and my brother felt unwanted.
'There would be a sporadic week where would take us out for a couple of hours to the park to fly a kite. He would assemble the kite and return to the car leaving myself and my brother, once again, alone. Towards the end of the summer, we were both sick of his antics and refused to go anywhere with him. We, like him, had given up.
'Months passed and we somehow managed to survive, without him, to Christmas. We retreated to our extended family down the country, which was a very nostalgic, not having him there, because when we were young, he loved watching us open our presents. For my mom it was a very sobering experience, not having who she thought was her soulmate there. I don't remember much about that Christmas, but I do remember the tears.
'My eighteenth birthday, which immediately followed Christmas came, as did a digital camera via post. A card was included in the package that simply read: 'Dad'. I reluctantly accepted the gift, but all I longed for was my father and a daddy hug.
'Throughout the years that followed, my brother, deciding not to have any contact with him altogether, grew into a remarkable, kind, generous man. I on the other hand, always being a daddy's girl, went through spurts of communication with him that always ended in tears.
'I am under the understanding that he moved on from the air hostess he left us for, to a woman I begged him to introduce me to, but he never did. I'm guessing that is her consoling my now aged grandmother to whom I have also no contact with.
'The last conversation I had with my father consisted of, as ever, an argument. I simply stated; 'how sad is that you don't actually know who your own daughter is!' It was a statement he agreed with.
'I look at my father now, in his coffin, and do not recognise the man before me. I have not seen him in two years, which was of his choosing. I had begged and pleaded with him to meet me, to which he always answered that I was an adult now and that I should grow up. It doesn't matter how old you become, family is family, and I will never have the opportunity for another daddy hug.'
I blew my nose loudly into the handkerchief, tears rolling down my cheeks. I took a breath before continuing; 'I just have to come to teams with, even though he had become a different person, a person whom I didn't recognise, he will always be my dad. I hope he knows that, wherever he is now.'
I wiped my eyes with the sleeve of my black cardigan and went to my father's coffin, where I kissed him on his cold, dead forehead and walked the length of the church into the sun.