Her last wish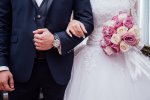 Sat, 06 Aug 2022
1 likes
A mother passes
Her ring to her son,
'Make sure I'd approve
Of whose finger it's on!'
She lies and waits
Trying not to persuade,
As to his who he chooses
The ring to parade.
Will she be good to him?
Is all that she asks,
He sees this as
A gargantuan task!
As his mother his
Saviour, his true first love,
Goes up to the heavens
And looks down from above.
For the ring he chooses
A suitable mate,
He sits and he wonders
Would she love or hate?
The ring passed down
From generation to generation,
He looks through the crowd
The invited congregation.
His one true love
Has been and passed since,
So his bride that he chooses
He need not convince.
She watches and sees
Although she has passed,
She nods and agrees
He has done what she asked!