Fig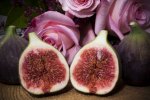 Sat, 24 Aug 2019
1 likes
You bite into my perfumed skin;
teeth sink to ancient roots,
we have eaten these dark fruits
by Doric columns built under the salt
of sweat of toil of other men.
And absorbed by the dust,
drawn up by tree, drunk on these labours
left to earth, they become sap in the shadows
of temples that stood before -
where the musk of the past meets the sweet of now.
The granular of seed against the soft give
of my flesh offers honey to tongue,
flowered, penetrated by symbiosis 
of tree and beasts, this light and dark
has left its mark in a hidden ecstasy of life.
Image  from pixabay.