Swallow-tailed Kites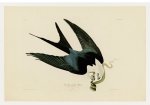 Thu, 11 Feb 2021
All I knew was that they were here,
and then they were gone, somewhere
between the moon and darkness, a mirror
of night in scissor-tailed sorcery. 
I don't know where home is - 
it is not in the lexicon of those
in perpetual motion, and such haste
that even a snake must be snatched 
between wingbeats, between action
and reaction, in the ambition to be
guardians of their own ovate omens,
such hurry that there is no time 
for names - the silence of the air
rarely snapped beyond alarm. 
This is the urgency of purpose - 
we are biologically armed with love,
for love, and I have always understood 
the safety of quiet - perhaps these kites
are a perfect reflection of existence - 
of my life, of our lives, how each wave
of pain arrives and departs in tides,
why we all nest amongst the needles
of a loblolly pine, entrenched in clay,
roots woven into ancient bones
and the fossils of memory. 
 
Image is from here: https://commons.m.wikimedia.org/wiki/File:72_Swallow-tailed_Hawk.jpg#mw-jump-to-license
Also on Twitter: https://commons.m.wikimedia.org/wiki/File:Egg_check_list_and_key_to_the_nests_and_eggs_of_North_American_birds_(1886)_(14727865346).jpg
https://commons.m.wikimedia.org/wiki/File:Mary_Vaux_Walcott_-_Loblolly_Pine_(Pinus_taeda)_-_1970.355.672_-_Smithsonian_American_Art_Museum.jpg
Written for Peach who sent me details of swallow-tailed kites and told me that when she was a child that she thought they appeared and disappeared magically.