Whale bones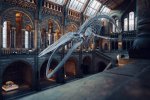 Mon, 14 Oct 2019
If you walk the tunnel length 
of a whale's rib cage,
look into one whitened socket and
you'll see the ghost of an eye
still peers at you from the vacancy
of man-sized bones,
stripped of fat and tissue, 
shorn of the muscle 
of the deep blue cruise
of an underwater colossus.
You will be disoriented in this giant's shadow
of a skeleton, awed at great joints
held together wire to wire.
This lifeless reconstruction
does not reveal the whale hunter's nihilism
of sharp harpoon or his disbelief 
in her invisible soul that echoes now 
in hollow chambers of a different tomorrow 
and another salvation, you will hear
faint calls for courage as she sings
out the last of her ancient memories.
Image from pixabay.