Rockefeller Center Babysitting Service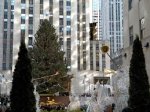 Thu, 14 Nov 2019
1 likes
Sisters are great but there are times in certain adolescent years that older sisters can view younger ones as bothersome and I suppose I was.
Being the youngest of three girls my parents would often ask my sisters to watch me or take me with them, which for them was even worse but on many occasions…grudgingly…my sisters would take me along with them into the city.
My memories of these time are different then theirs but as I remember, we would take the train to  the Fifth Avenue and 53rd street station. In the memory I'm sharing, I was about 7 and a little precocious or probably annoying.
The first city skyscraper I would see coming out of that subway station on to 53rd Street near the corner of Fifth Avenue was called the Tishman Building and, for whatever reason, my 7 year old brain found that a funny name and I would point to it and yell…in my childishly, joyful voice, "Hey look it's the TISSSHHHMAN BUILDING!"  And yes, for what ever reason, I would stress those first few letters adding to my teenaged sisters mortification. They'd shush me and hope I hadn't drawn attention from the crowds of well dressed people walking along Fifth avenue.
On the flip side, I found their expressions highly funny and so, in those very young years, I did this every time they took me to Manhattan…every time we stepped out of that subway station I'd call out that building. You'd think they would have gotten off at a different station, like Park Avenue or Madison Avenue, to avoid this embarrassment but no, they never did, and so, I continued to be highly amused by that building's name and my sisters red faces at my exclamation.
On winter days, they would take me to Rockefeller Center's ice skating rink and tell me they would be up around the flags of the nations watching me….and I believed them.
I would put on my skates get out on the ice and watch the kids who had paid trainers to teach them and I would glean what they were being taught and teach myself. Soon I could skate backwards, stop myself by putting down the front ridges of the skate and push off with my right foot, strongly enough to get a fair amount of speed and make it around the rink, and all the while I was smiling up into the crowd of onlookers standing around those waving flags, sure my sisters were up there, somewhere, watching me and being impressed.
I did not know it then but years later, when we were all in our twenties (20, 26 and 29) they confessed to having left me completely alone on that ice while they explored museums or went to restaurants in the two hours they paid for me skate.
I didn't blame them when they admitted this, I understood they were teenagers who wanted to be accepted as young adults in the city and they certainly couldn't have done that with seven year old me along, pointing out everything that might have amused me in a museum, which probably would have been alot. Besides, I really was having the time of my life learning to ice skate, but it did make me wonder…Did Rockefeller Center realize they had such a great babysitting service...I don't think so either.
Anyway, years later my sisters actually did watch me skate, and it made up for the times they weren't there. And when I was ten or eleven, they even began to take with them to the museums and restaurants and those memories are extra special and I was pretending to be older too. We'd bonded like sisters should but I just had to grow a little older to understand that, and yet, I still cannot pass that darn Tishman Building without laughing and silently saying, "Look it's the TIIISSSHHHMAN Building!"