"The Trouble with Magical Beings" (A Fantasy) Chapter 8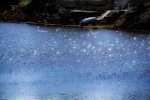 Thu, 26 Sep 2019
Daniel looked at the compass making sure they were still heading south.
"Can you turn a little to the left Shale," he asked the little robot turned yacht.
"Aye, Aye Captain Daniel," Shale replied, his voice coming from the bow of the ship.
Naia was flying above the ship's mast on her pony and suddenly yelled excitedly from her lookout point, "I can see Land!"  
"Really you see land?" Daniel looked out at the endless sea and asked hopefully, "How far away is it?"
"Did Naia say land?' Jenny asked as came out from below deck with a bologna sandwich in her hand.
There was a fully stocked refrigerator below and at the stern there was plenty of hay for the horses and lots of whatever that lion ate too. It had appeared without anyone wishing it to, apparently the magic was making sure they wouldn't go hungry on this adventure.
"She said there's land ahead but I don't see it yet," Daniel told Jenny as the thought about going below to get a sandwich crossed his mind too.
"It's still far away but it is land," Naia said as she flew down to them and landed her pony on Shale's boat deck.
"I think I do see something on the horizon," Daniel said with a bright smile but before he could point out where he saw it the boat began to rock as the ocean suddenly turned angry.
The seas began to roll the little robot yacht back and forth and Naia, Daniel and Jenny had to quickly grab hold of the rails to stay on board. The horses and lion flew a few feet above the deck but stayed close to it.
"Help," the little robot's voice quivered as he felt the sea trying to suck him under.
"Hang on Shale, try to make it to the land ahead," Daniel said, "And I'll get everyone else down to the cabin until it's calm again."
Naia pulled Jenny with her and Daniel pushed the horses and the lion through the small cabin door before closing it behind them and locking it.
"What's happening?" Shale wailed as the wind howled around him, and the winds had become bitterly cold. The waves were now capped with ice and suddenly a dangerously large glacier loomed ominously ahead of him.
Maybe it wasn't land Naia had seen, maybe it was that iceberg, Shale thought as he turned as fast as he could away from the icy mountain and quickly steered clear of another one that had just appeared on his starboard side.
"Help!" he yelled again but no one answered because everyone was below deck and couldn't hear him.
Suddenly, but not in answer to his plea, a whirlpool spun up from the depths of the ocean spinning Shale mercilessly around until it dragged him down into the briny deep.
Inside the cabin, Jenny clung to Daniel as the whole boat spun crazily and Naia fearing the worst made a quick wish with her unstable magic to wrap them all in a protective bubble of oxygen.
The bubble covered their heads and part way down their bodies but their feet, paws and hooves dangled unprotected. Still, it was the best she could hope for as the yacht floated downward into the depths of the darkening sea.
When they hit bottom the yacht turned back into the little robot Shale, and Naia quickly pulled him into their protected bubble.
"What happened?" Shale asked Daniel still reeling from the spinning ride down.
"I don't know, but I think the magic is changing on us again," Daniel said staring into the eyes of a not too happy to see them squid.
"I think were on a coral reef," Naia said," as she too spied the deep sea fishes curiously circling and peering in at them.
"How do we get back to the top?" Jenny said trembling and squeezing Boots tighter, "I don't like this place at all," she sniffled.
"I couldn't agree with you more," Boots said with a low grumble, "Lions are not sea creatures."
"You'll all be fine, besides the ocean is nothing you need to fear Jenny," Naia said with authority, "It's just filled with another form of life but I'll make a wish for us to float back to the top and then Shale can return to being a boat and we'll be on our way. Does that make you feel better?" Naia asked Jenny.
"Much better, can you wish it right now?" Jenny nodded wiping away her tears.
"I'll try," Naia said but before she could make that wish the sea bed began to shake violently beneath them and the sandy bottom kicked up a sea storm of particles making it impossible to see outside their bubble dome.
"Make it stop," Jenny begged afraid again.
"Don't worry we'll be okay, "Daniel whispered hoping the magic wouldn't hurt them…after all, Kale had promised Jenny would be safe.
Finally, the shaking stopped and the sand settled down and their bubble window cleared but what they saw outside their bubble was not a comfort to any of them.
A giant sized, imposing figure of a man was staring angrily in at them.
"Oh, this isn't good," Naia shook her head.
"Why, who is it?" Daniel whispered not liking the look of the gigantic man, or the very large, forked stick he held threateningly either.
"It's Poseidon, King of the Sea and we've entered his world without permission," Naia whispered back fearfully as she stepped behind Daniel hoping Poseidon wouldn't see her, "And he's not happy we're here."
"Neither am I" whimpered Shale, "so tell him we'll leave right now and you can wish us back up to the surface."
"It's not that easy, we've intruded and he's not going to let us leave until he knows why we're here." Naia told them just as the sea floor behind the king produced an immense clam that rose up behind Poseidon and at his nod it opened for him to enter.
The King narrowed his sea-green eyes on the bubbled intruders and said one word, "Follow," in his thunderous voice.
The word shook the sea bed again and shattered their protective bubble.
They were quickly pulled into the clams opening and thankfully found they could breathe inside. There was no water within and as they were pulled along behind the king they entered an enormously domed room that had sunlight flooding into the center from above.
Daniel looked up to see a clear domed ceiling; the water above it had parted all the way to the surface of the ocean and was letting in the sunlight. When he looked down at his feet he saw they were standing on a clear, like glass, floor and there were eclectic eels swimming along underneath where he stood.
"You have come here uninvited," Poseidon said as he walked regally over to a large sea shell throne that was positioned in the center of the sunlight, "Step forward and explain yourselves," he commanded as he sat down, his eyes blazing with unfriendly fire.
"Do all magical creatures have those green eyes?" Daniel whispered to Naia as they moved forward.
"Shhh," she elbowed him to be quiet and whispered, "We have to show respect," and then she slipped back behind Daniel hoping to stay out of the king's sight.
Daniel bowed and Jenny curtsied thinking that's what one did before a king to show respect but Shale trembled, unable to move at all.
The lion, thinking he was just as much a king, sat regally unconcerned.
On the other hand, the ponies and stallion whinnied happily.
Poseidon took pity on the land animals. His love of horses would not allow him to let them linger in discomfort so he waived his trident and the ponies and stallion and even the suspicious lion were bathed in the warm sunlight.
"Tell me why you land travelers have entered my world?"  His commanding voice reverberated off the walls of the room.
Braving the king's anger, Daniel stepped forward but Poseidon waved him back.
"You tell me," he nodded to the horses.
The stallion bumped Daniel out of the way and stepped in front of him.
The Stallion cleared his throat testing his new ability and then said, "These humans have been granted an adventure your majesty, a magical one," the stallion said condescendingly, "and they are rather ineptly trying to complete it."
"I didn't know you could talk?" Daniel whispered from behind the stallion and the stallion shook his noble head at him to be quiet.
Poseidon paid no heed to the child human and continued to question the stallion.
"And the little metal one, why is he with them?" The king asked.
The stallion looked at the little robot and shrugged, "He is lost and, I must confess, they all are rather nobly trying to return it home."
Poseidon noticed the littlest human peeking at him curiously as she tightly hugged her lion and asked, "What of the littlest human?"
"She's an innocent participant, walked unwittingly into her brother's request for a magical adventure."
"Interesting…and why is there a lion?"
"I haven't a clue," said the stallion exasperatedly shaking its head at said lion.
"You haven't a clue?" The lion roared angrily at the stallion and turned his golden gaze fully on the sea king, "I can tell you why there is a lion. I am here to protect," he said giving his best lion's roar to prove his intent.
Jenny stood up for her lion finding her courage and told the king, "He's my lion your majesty, and he goes everywhere I go," she said ready to defend her lion and her friends no matter what that king might do to them.
Poseidon hid a smile and nodded slightly at her with admiration for her bravery. There were not many who would speak out as she had. 
"Why doesn't your brother protect you?"
"I do your majesty, and I will at any cost," Daniel stepped bravely forward and spoke up. 
"Perhaps…," Poseidon said pensively but as he was about to decide their fate he noticed a shadow of someone behind the boy, "Who cowers behind you? Step forward?" He bellowed.
Naia froze, even in her altered state he might know her, but she had no choice since everyone parted at his words and there was no where she could hide.
Naia was fully facing the sea king.
"Naia? Is that you?"
"Yes, your majesty," she mumbled as she bowed.
"You've changed, does your father know you are racing in my waters with humans, robots and animals, and in fact have changed yourself into a human?"
Naia sighed, "Yes, he knows sir, because he's the one who changed me."
Poseidon laughed loudly at her predicament and the sea bed rumbled with his mirth.
"Is this a lesson he is teaching you then?"
Naia shrugged but it was Daniel who came to her defense.
"It's my fault your majesty, Naia is only in my adventure because I caught her in my kite's tail and asked her for a wish…and her father doesn't like humans."
"I don't much care for them either," Poseidon said with laser focus on the boy.
"Why?" Daniel asked curiously. He really wanted to know why all these magical beings seemed to dislike humans.
"Look carefully around your world; you'll see the answer to your question. A starting point might be the garbage they toss in my oceans."
"I don't throw garbage into the ocean, I promise I don't."
Poseidon's sea green eyes narrowed on the little human as he asked it with interest, "If I granted you a wish, what would it be?"
Daniel's breath caught, a wish was exactly what he'd wanted at the start but he couldn't use this wish for himself because the little robot needed to get home.
"I would wish to get us to where the robots live so we can take Shale home," Daniel said determinedly, "That's what I'd wish."
Shale's little yellow eyes brightened and he hugged Daniel's knees, "Thank you," he squealed, 'Will you grant his wish your majesty?" Shale's bright yellow eyes flashed joyfully at the king.
"Is that the wish all of you want to make?" Poseidon asked them, impressed with the human child's caring about the little robot's needs. Perhaps a future generation of humans might finally learn to care and maybe someday they'd be welcome back into the world they once knew.
Naia hesitated for a second, she really would have loved her magic back fully but Daniel was right, Shale needed to go home.
"I wish it too," Naia nodded and stepped next to Daniel.
Jenny and her lion did the same and the ponies and with a little reluctance even the stallion lined up with the others.
All agreed this was their wish too. 
"Very well, I shall grant you this wish. A safe passage out of here but do not attempt to sail my seas again, is that understood?"
They nodded affirmatively afraid to speak and anger the king again.
Poseidon stood up and raised his massive trident slamming it down into the base of the shell, shaking the sea bed violently as he said the words to send them on their way.
The next moments were a blur of water rushing past and air hitting their faces and then sand and dirt rivaling for their attention as they flew over ocean, beach and earth until they finally landed all at once on the grassy expanse of a lawn that lay before an imposing castle.
"I'm home," Shale shouted excitedly and ran from them up the long set of steps leading to two huge doors at the top. He pulled open one huge door and ran into the castle out of their sight.
"That's where he lives?" Naia said in awe.
"Yes, that's where he lives." Came the booming reply, but it wasn't from one of them it was from the very angry, extremely large, robot known as Granite, who was looming angrily behind them.