The Cow Hand's Wife (Poetry Monthly)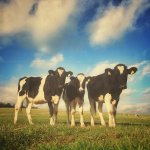 Tue, 07 Feb 2017
2 likes
Tedious green sates the lazy cows,
they chew in dull absence and wait
for the next round of milking.
A crow rummages in a fresh pile of digested grass,
a white line crosses the sky, high and far away.
My mother had a lighter touch, cold hands
to rub fat with flour, into crumbs,
two separate things become one.
I have removed my ring,
there's a white band on my finger, a pale shadow of my wifehood.
I'd like an apron, a marker for work,
something to take off to show that I am done.
A loose cardigan hangs over a dress
from my dancing days,
these clothes are no longer mine.
We'll take a picnic down to the river,
my pie shall be devoured
and the children will swim.
I'll sit on the bank, feed the baby,
sink into the emptiness of chlorophyll.