Measles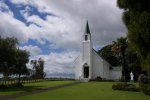 Sat, 02 May 2015
It was an afternoon service.
Mother herded us back along the cow path
pointing out rosehips in the hedgerow
their bitter pithiness sucked moisture from our tender mouths,
nothing like the syrup she gave the babies
to settle tiny tummies and give her respite.
We plucked wizened blackberries like tiny boiled sweets,
Mother frantic at our haphazard popping
of wild fruits and leaves,
our pleasure at the chance tang of sorrel,
death was on her mind.
Measles had taken a clutch of babes,
we'd not known them but sat at the back,
Mother tutting at the discordant singing,
children from school sat in front,
small dips in the wide bank of fat backs
quivering, containing grief,
they turned to glare, put out tongues
pulled the skin beneath their eyes to
show the red, mouthed, 'jack',
as though we were trespassing on their sorrow.
We reached the brow of the hill and looked back,
the wooden church nestled in green ferns,
billowing clouds tinted with sunset 
like heaven in the paintings,
a shaft of light like a blessing.
I wonder if the babes can see us,
the nuns said they were lucky as
a pure soul goes straight to heaven,
I know mine is already blemished
but suck on a berry all the same.