Re-imagining Venus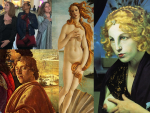 Sun, 05 Jun 2016
We met up at the V&A
like the middle-aged women we have become,
oddly competent
given where we began.
Not all of the sisters could make it
but we heard them chortling over our shoulders at
garish retakes on a theme,
Veni with peni,
long blond hair waving seductively,
an easy shorthand for beauty;
our Venus days are behind us, so we  were free to laugh
at the ugly baby Jesi,
the familiar, pissed off gaze
of painted ladies who
longed to be anywhere else
but in this glitzy frame
being milked dry
before windows, where glimpses in the distance
suggested sky and green and the possibility
of other stories.
We had our own
and had come to celebrate
survival; Cindy Sherman's stick on rubber breast
seemed emblematic of trial by gender.
Botticelli seemed a geezer
with his boyish glance,
sardonic in his knowledge of the way of
myth-making,
but even he would have no skill
to paint the brilliance
of my sisters, here and elsewhere, they remain
impossible to pen down.