Shall I be Mother? (Poetry Monthly)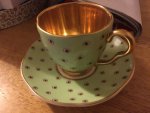 Sun, 08 May 2016
Read tea leaves
spilt across a china blue sky,
shrieking like starlings,
shifting their 
shape
before
you can decipher
their under-the-weather-forecast,
which may be worse than today,
so you may as well go all out.
Barley wine and Breakers,
bingo and babies
a bus ride away from
a game called grown-ups,
played with a stranger.
Let loose the unowned life
to sniff out, in its animal way,
that flash of white light
once seen at the edge of death,
beyond the sulphur flare.
Suck in smoke
impregnated with peppermint,
for the night will end with lips
pressed against warm tarmac
in an exchange of secrets.