Bring Out Your Dead - Part 24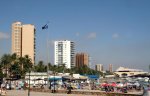 Wed, 03 Aug 2016
Continued from Part 23
D.I. Wood's rental car attempted to round the corner, in Castelliano de la Ribera, on two wheels and very nearly didn't make it at all.  A few swerves and cursing later, it was safely tucked up in a line of parked cars.  D.S. Stone separated from the shade of the wall from which he had been observing the comings and goings at the hotel bar on the seafront and slipped into the passenger seat.
"Useful stake-out, sir?"
"Waste of bloody time and effort.  All that happened was, she did her packing and Lurch trailed after her from room to room.  Apart from them getting up close and personal, there's nothing to report."
"Getaway!  Her and that undertaker were…"
"Nah, not really.  It was more her getting up close and personal with him.  He just stood there like a wet weekend, as far as I could see.  No sign of Frankie anywhere and she's shut the place up tight as a drum now, so if he is in there, he's stuck.  I don't reckon he can be though, else she wouldn't have let Lurch roam around all over the shop.  How about you?  Did Constable Carlos turn up?"
"Yes, and it was Juan Carlos, actually" D.S. Stone took the opportunity to show off his Spanish pronunciation.
"It was what?"
"Juan Carlos" D.S. Stone replied, giving it everything he'd got in the way of asprirants.
"Oh right, I thought you said…"
"No, I didn't.  His name was Juan…Carlos and he was very helpful.  Let me have the run of the place, such as it was."
"No sign of Frankie, I don't suppose?"
"No sign of anybody.  He'd definitely been there, though.  There was 'Frankie Woz Ere' scratched into the cell wall.  Mind you, according to Juan Carlos, they know where the bloke who should have been guarding him is."
"Brilliant!  Where is he, we'll go and have a chat."
"I don't think so, sir.  He's in Columbia.  Flew out yesterday.  Got family in South America, apparently."
"Had he got Frankie with him?"
"Not according to Juan Carlos.  He bought a single one-way ticket at the airport.  They're a bit embarrassed about it, actually."
"I'll bet they bloody are!  Presumably Frankie made him an offer he couldn't refuse, he must have a few bob lying around from his last job, and while P.C. Pablo pissed off to Latin America, Frankie did a runner to god knows where."
"It's a bit of a mess, sir."
"That's the understatement of the year!  Our boss is going to hit the roof when I tell him.  Anything else to report?"
"No, not really.  The small undertaker's been in and out of the funeral parlour like a dog at a fair, looking up and down the road presumably for any sign of Chantelle and the other one.  Oh, there has been one bright spot, guess who turned up just now?"
"I'm not in the mood for guessing games, sergeant.  If it wasn't Frankie Knight, I'm not interested."
"You will be, when I tell you.  Only that neurotic couple from the plane and the hotel.  You know, the one who made all the fuss on the plane?  Got off in Paris with the two undertakers?"
"Never!"
"Straight up.  They just parked on the front a while back.  They sat there for a bit and then went in to the Hotel Ribera Playa.  The same one where we just sat and had a drink with Chantelle and the undertakers."
"Maria's brother's place."
"Is it?  I didn't know that."
"Yeah, she was telling me about him when we went for dinner last night."
"It's a bit of a coincidence, don't you think, sir?"
"What?  Maria's brother having a hotel?"
"No, I mean, well, I don't know what I really mean.  But look, it's right next to both the funeral parlour and the lock-up, we found the undertakers there and that Chantelle woman, and now these two have turned up like bad pennies.  Do you think they're all in on it, somehow?"
"Hmmm.  Makes you think, doesn't it?" D.I. Wood rested his chin on his hands on the steering wheel and glanced at the rear-view mirror, "Hey-up, Stoney, Lurch and Lolita have just arrived back, if I'm not mistaken.  Get your My Little Pony binoculars out and keep an eye on them."
******
Josiah Oakshott heaved a deep sigh of relief as the sports car containing Chantelle and Archibald Thurble slid to a halt outside the funeral parlour.
"My dear Miss Lace, I must admit that I feared you perhaps had become lost, or some unfortunate event had befallen you."
"No, we're fine.  How could I go wrong with Archie here to protect me?" She chuckled.
"Archie?  Really?"  Josiah's eyebrows made a concerted effort to migrate to the top of his head.  Archibald had the good grace to blush deeply as he prised himself out of the car.
"Chant…er, Miss Lace had to pack and lock up and stuff.  I helped her put her things together."  He said, proudly.
"As long as it was just her things that were being put together" Josiah muttered, then out loud, "Archibald, I have positioned the van at the rear of the premises in anticipation of your return.  We must move quickly to remove the deceased from the Chapel of Rest and place his remains into the van for onward transportation.  Our very kind colleague from the funeral home is desirous of closing for the evening and we must, ourselves, make haste if we are to join the ferry as we propose, tomorrow."
Archibald looked at him blankly for a moment, then inspiration dawned.
"You want me to shift the stiff?"
Josiah winced.  "I would like you to assist me with the removal of Sir Lewisham's coffin, yes."
"Can I help at all?" Chantelle asked, sweetly.
"I fear not, Miss Lace.  Only those of us professionally trained in the manual handling of such objects may be employed in their transit.  If you would care to wait for us in the hotel bar, we shall join you in due course."
Chantelle shrugged and made for a vacant table.  Archibald trailed dutifully after his employer.
******
"The two undertakers are heading around the back of the funeral home.  I know the small one put the van around there a bit back, so I guess they're going to shift the coffin, away from prying eyes I suppose."  D.S. Stone shifted the pink binoculars slightly to the right, "Chantelle's parked herself at a table on the front of the bar and seems to be getting herself outside of a Pina Colada."
"Right, well, if they're on the move, then so are we, Stoney-boy" D.I. Wood rubbed his hands in anticipation, "If we've got no Frankie to escort home, then we've got to do what the gaffer ordered and stick like glue to this shower."
"Do you think they'll lead us to him?"  D.S. Stone asked, doubtfully.
"Your guess is as good as mine, sunshine.  All I know is, in the absence of Frankie, following his missus is probably our best hope.  I've a feeling in my water that those other two buggers have got something to do with it as well.  I'm just not sure what, but the only way we're going to find out is if we follow them.  Looks like we've got a long ride home on a slow boat to Blighty, old son!"
******