A thought to introspect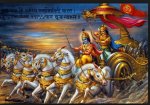 Sat, 01 Jun 2019
A thought to introspect
P K Routray
Man's search does never cease
for happiness, bliss, and peace.
Senses running wild
keep man beguiled
from this goal.
Need the right control.
The mind is their master
but it is prone to commit an error
unless intellect ofit proper
with a goal that nothing can blur.
As a student preparing for an examination
to get up at a time for a morning session
he sets up his alarm clock and never fails
though throughout the year he ignores that clock's wails
as because the thought of failure
prior to the examination, nothing can blur.
Intellect needs similar seasoning
that prayers and divine services can bring.