Blackberry Jam (revisited)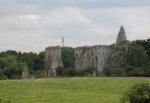 Wed, 20 Mar 2019
You said the perfume's to die for;
I'd die for less, but remember
holding tired onto my father's back in late September.
It was a strange brand of sadness because
the lapwings hadn't yet arrived whilst the dragonflies
departed and in that lifeless grief he carried the
blackberries home as well as me -
all scratched and nettle stung and
sucking purpled thumb.
 
Miles it seemed to West Byfleet over
stiles and dreams to rest my feet and
drink for days the smell of jam.
My father, are those memories
just washing over timeless weirs
when children's thoughts have disappeared
and you are gone?    
Again, we'll stand on the half moon terrace
when your life that made me turns to ash.
Bereft of your voice, scattered in life
yet an image lingers on -
as you do, by the priory ruins
where the ghosts of monks sing vespers.
For my father, Vincent Alec Reginald Eydmann (1944-2019)