Dear Daughter,Second Part To Dear Mom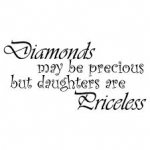 Sun, 15 Mar 2015
I may not be there to hold your,
hand when things get tough,
Or laugh when the kids play in
The mud.
But I'm in your pictures,thoughts,
Heart, so always near,and will
Never disappear!!!
Just remember,when you cry
I'm on the tissue you use to
Wipe away your tears,
Or when the sun comes out
I'm smiling at you.
That sudden breeze upon your
Shoulder while you wait to cross
The road,its me telling you
I'm here sending you hugs from heaven.