THE HUT
Image: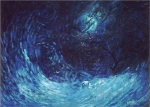 Thu, 13 Jan 2022
THE HUT
                    As Anita slowly walked lazily, kicking the pebbles on the pavement, singing a song, she laughed at herself for her merriment. She was entitled to it. After all, her only daughter was getting married next month to a wealthy Doctor and all her struggles so long had not been in vain. She hailed her neighbor nearby and noticed a slight jealousy creeping in her. She set aside her rumination and hurried to her house as she had lot of chores to attend to, in preparation for the marriage.
The compound wall door was a little ajar and she wishfully thought that her daughter had come home early from the IT company she was working in, perhaps to purchase dresses for her marriage. Anita remembered informing her in the morning. The front door was open and she felt she guessed as much. As she entered the hall, she found all things were strewn about and it was not certainly her daughter as she kept everything spick and span. She was certain there was an intruder in the house and she went into the kitchen and found that the water kettle was hot. She gathered a strong broom and tiptoed to all the other rooms and found her muttering to herself "clear" as in the English movies. She was an English lecturer in a nearby private college and saw all the English movies regularly.  She slowly sauntered up the stairs to her bed room and found it ajar. She remembered to have closed it in the morning. She readied her broom and slowly opened the door. She saw the legs first with a shabby shoe, the body sprawled on the bed. As she entered and saw it fully, she had a shock of her life and slumped on the nearby chair with her hand over her face.
             When she recovered from the partial shock, she gathered her senses and all the memories of her past life came tumbling down like a waterfall. It was her second husband whom she had married five years later after her daughter was born to her first husband, who died in a serious accident. She had luckily survived with her daughter seated in the back in the car while he was driving. The second gentleman, an orphan was her deceased husband's friend and was very loving, caring, docile and spoke very little. He befriended her and was close to her daughter and finally she married him with her parents' blessings. He was good at all handy jobs, an electrician, plumber and carpenter rolled all into one. He was amiable and everyone liked him for his sincerity and honesty and his good work.
Slowly he became very slovenly, hardly spoke and was very pre-occupied and lost all interest in his activities of daily living. She consulted many doctors, took lots of treatment, but his conditioned deteriorated.  He had short spells of stay in all the mental asylums, but the improvement was short lived. Finally, she searched for a good one in Assam and through her friend she admitted him there paying a hefty advance and Rs 20,000 every month for the past ten years. She had told her daughter that he was in an asylum and was incommunicado as she could not lie to her enquiries often. She had decided to bring him back after her daughter's marriage and now every plan to secure a good life for her daughter crumbled in front of her.
She had to take a fast decision before her daughter returned in 4 hours. It was 2pm now and she got up, cleaned her face. She tiptoed to her room. He was fast asleep, perhaps the effect of drugs or lack of sleep earlier. He rummaged through his shoulder bag and found nothing of importance except a drawing or a plan with distances and train and bus routes mentioned in detail from the place of internment. She decided to take him to a lonely place high up in the mountains a little far away to buy time; which they used to frequent and which he liked very much. She readied the lunch with mashed potatoes and scrambled egg which he liked. He slowly woke him up with a smile. He was groggy and had drooled a lot of saliva, probably due to the effect of drugs. He smiled back but as he turned, he winced. She saw that he had lots of fresh abrasions and scars in the front of chest, back and legs. She bought some ice cubes and applied on it and on some she applied a soothing ointment. She washed his legs with tepid water soaked in saline to clean the sores in his sole. She suggested that if they go to the nearby mountain top, he would feel better and he just grunted 'yes'.
She quickly opened the garage and drove the car out. He got in and she slowly drove it asking him details of his return journey from the asylum. He just answered in monotones and she came to know that he had escaped from the penitentiary two years back and was caught by the Maoist and he was beaten up to induce him to join them and finally they released him after they found he was sick from his records. Then he decided to come back and travelled by trains without tickets and finally reached home. But for two long years she had been sending money to the asylum as they had not informed her.
After about an hour she reached the place and sat with him on the edge of the cliff on a stone bench. The view was in particular stunning but she was not in a mood to appreciate it.  She felt helpless on how to hide him from her daughter and also her daughter in laws till the time their marriage was over. She wanted to push him down the ravine into the deep gorge and she knew it was the devil in her and it reflected her insecure and helpless feeling. She also knew that it was impossible to fully convince him to stay back till the marriage was over. Where would she find a place for him temporarily and within a short time?
All her thoughts swirled over the devilish idea of pushing him down as it was easy to accomplish in a short time, but she could not muster the courage or the will to do it. She knew he was very good and caring and wanted to live with him except for the social stigma of her daughter's marriage and the consequences. She resisted the devilish thoughts by praying to God and closed her eyes seeking a solution. He was sitting beside her calm and quiet, as he did not know the quandary, she was in.
She opened her eyes and, on her right, she saw a fickle of a light and a hut behind it. She also saw a silhouette of a women standing in front. It seemed to mesmerize her and beckon her. She got up and caught hold of his hands and led him through a forest path to the hut. There was a clearing in front and sheep were gracing. The sun was slowly setting and the shadows lengthening.  The dogs started barking and stopped winning after the women called out to it. There was a girl perhaps nine-year-old, standing beside a middle-aged woman. He seem to stand rooted savouring all around him and his appeared to brighten.He went and bend to pat the sheep's and in time the dogs was wagging its tail beside him. Anita went and asked for a cup of water. The girl after looking at her mother ran in to get it. Anita felt that he was at home and also found him talking to the girl and patting her. After formal introduction Anita told her that he was her brother and was border line mentally retarded. He was a bit slow but was good and honest and was not at all aggressive. She told her about her problem and promised to hand over about Rs 10000 for his upkeep here, for a month. The women had not seen so much amount of money before. She saw a docile, loving and caring person. She agreed on the condition that Anita should come every day in the evening till he settles down without any problem. He came and sat with them and was animatedly talking saying that he would graze the sheep's, tend to the cattle, and plough the fields if needed. Anita informed that he was handy and knew plumbing and electric repairs. She left him after ensuring he slept in the barn and did not disturb them. She knew he would not hurt a fly.
She returned in time to meet her daughter and go for shopping. Anita did not utter a word and decided to broach the subject after her marriage. The next day she left in the morning to see the place and enquire about his behavior. As she neared the place, she saw him tending to the sheep, gracing it, singing a song, accompanied by the girl. She had not seen him so happy and alert. The whole place looked like God had carved it himself with valleys, meadows and a faraway waterfall with bountiful nature's abounding beauty. She enquired and heard that he had not disturbed them at night. She handed over the money for his upkeep and left.
As she drove back, she knew that God had found her an alternative solution from her devilish thoughts and she said a silent prayer thanking him. After a month, when her daughter had left, she went to call him back but he refused to come and they were also so happy to have him. He had improved a lot without drugs and was neat and tidy.  The girl also liked him.  Anita also allowed him to stay and promised to visit them regularly. Maybe, she could build a house nearby and stay with them after her retirement.
God had provided him a hut and nature had cured him for good.