Come Sunday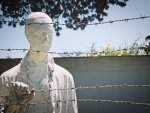 Wed, 24 Jun 2020
1 likes
While you
scrubbed
your kitchen
on Sunday morning
Methamphetamine
an old woman tapped
at your door.
 
She'd moved
here yesterday
and had made
you a pie of apple
and blackberry.
 
She did this 
to say hello.
She did this
to calm her from
loneliness and fear.
 
But you
missed her.
 
Your powerful
Headphones played
'Jumpin' Jack Flash'
by the Stones.
 
Your crystal
pipe and oblivion
left her walking
back to her family film.
 
                                 Her brother was a Nazi.
                                 A gas man at Belsen.
                                 His final breath now taken
                                 to her last interrogation.
 
                                With a knife.
 
And all this happened
the night before she moved
her misgivings to your street.
 
In this dappled
July sunshine life.
She'll try again tomorrow.