Nineteen and the Mermaids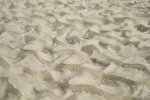 Thu, 02 Jul 2020
Found after a storm
by a walker out on his own
after a Christmas lunch 
for one, was a sand letter
and three pairs of clogs
which were in truth
unbefitting for terrain
such as this.
 
He read with keen
interest the swept 
italics two or three times,
written with strong fingers
or perhaps a stick or stone.
No wonder he was alone
with his parents, thoughtless
presents and these passions.
 
He charged the merry wind
to the sly water's edge,
peered at the horizon,
chewed his bottom lip
and tried to light a cigarette
with hotel matches
that laughed and 
sizzled at him.
 
He peeled off his 
brogues, the hole 
in one socks, loosened 
his tie. He pushed a hand 
through his hair and skipped
into the surf for life and for joy. 
A quartet of delirium in love
with beckoning mermaids.
 
Fifteen more appear,
ambled from the dunes.
Singing carols and curses,
fed on turkey and time,
drunk on apricot brandy,
primed and ready basted
to contribute to the wonder
of the shoe shop on the beach.