Beacons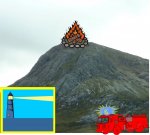 Tue, 03 May 2016
… gave optical telegraphy to signal overland:
hill fires to warn of trouble, so distance quickly spanned
when telephone and internet were still unknown, unplanned,
and still today they're lit to mark a celebration grand.
Some vehicles have beacon-lights – they're noticed from afar –
blue flashes from an ambulance that wants to pass a car,
an engine off to rescue from an ugly fire that's spread,
or amber indicating there's a slow, wide load ahead.
Lighthouses warn the sailors of the dangers to their ship
of rocks beneath the surface which can snag or pierce and rip;
but wreckers placed their beacons so from safety they would draw
towards those jagged reefs that shear the sea before the shore.
[IP: the theme of fire]