from the bus' mouth …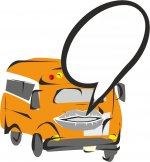 Thu, 22 Aug 2019
Again a revisit, from seven years ago, but again it seemed apt for this week's IP, and a bit of fun
"Twenty past nine, at the village green,
the forthcoming happenings as yet unseen.
Who would be coming along to pay
and purchase a ticket for town today?
"First, came an elderly man and his wife,
enjoying a quieter time of life;
wanted to look at the fields from a bus,
without all the driving and parking fuss.
"Next, came the vicar – to me he sighed,
'Petrol's expensive, it's better to ride
with you, to the hospital in the town,
I must pay a visit to old Mrs Brown.'
"Then came the lady who scrubbed the school floors,
taking a day off to visit the stores.
Says that she loves window-shopping, to stare,
pretending to buy all the things she sees there.
"Sid Jones then slid in a seat near the back,
keeps to himself, says he hasn't the knack
to respond to whatever they talk about,
he feels they all think him an uncouth lout!
"Annie ventured in, but she quickly took
a seat near the front – for it mustn't look
to Sid that she's following him around,
– she'd tried to be friendly, but he just frowned!
"A mum with her baby then clambered on,
folded the chair, and they both sat down,    
sorted her bags, and she tried to settle –
the baby started crying, and dropped his rattle.    
"At nine twenty nine, driver took his seat,
but hurrying, rushing, came two pairs of feet:
their children delivered to school for the day,
a few child-free hours now to while away!
"My engine was started, and off we go,
what all were thinking, I didn't know:
some of them dozed to the gentle rock,
some gazed and dreamed, not expecting a shock!
"But as we were travelling, peaceful and still,
a BANG! and I shook, and it made me spill
all of my passengers into the aisle
bumped and quite shaken, a wriggly pile.
"Up they all got, found my tyre had burst.
The older man said, we must find out first
where is the spare, can we put in the new –
does anyone here understand what to do?
"Sid mumbled, 'Yes, if someone will hold
the tools, and is willing to do as he's told!'
The older man listened, and nothing missed,
as Sid worked and showed him the way to assist.
"The baby got fretful, without the motion,
the rocking of the bus, and he made a commotion.
Annie came alongside to cheer him up,
the others found biscuits, and filled his cup.
"The job properly done, they piled back inside,
and cheered both the workers, Sid beamed with pride.
The mums and the cleaner said, 'Well done, Sid!'
'Cheers for our hero! You're a kind-hearted kid!'
"At last we arrived, not too late, in the town,
no-one was hurt, and good friendship had grown,
the morning had made them a different bunch,
– they went off together to have some lunch!"
[IP: The words just came out of my mouth]
https://soundcloud.com/rhiannon-weber/bertie-the-buss-tale