Enjoyment, not jealousy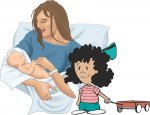 Thu, 01 Aug 2019
We've got a new baby in our house
– my baby sister.
Mummy has to sit to feed her
a lot
– so, she can tell me stories
and play much more
– she's not as tired as she was before
when the baby was bumping around
in her tummy.
Now together there's so much to do
me helping my Mummy
to get things ready
for bath time and nappy,
sorting the washing
– dirty and clean,
and all the time watching
– she's much more interesting
than a doll:
I have to be gentle, but I can look
and soon she won't sleep so much.
and she'll notice if I make noises,
funny faces and show her my book,
and in a while,
she'll laugh and give a proper smile!