January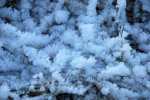 Tue, 06 Jan 2015
(based on 'Ionawr' [January] by Eifion Wyn)
January: hard frozen,
bleaching the land;
and what have you done to
the village pond?
The ducks like to shelter,
for wintery weathers
leave nowhere to sail
or wash out their feathers.
January: still, barren
with bare, bleak hill,
the birds come to gardens
to get their fill:
the trees their fruit offerings
no longer can keep,
and little protrudes from
the soil's deep sleep.
January: cold bitter
with biting frost –
and some are alone,
their home now lost:
no welcoming hearth,
its warmth now chilled,    
no rest, and no heart-song,
or larder well-filled.