Life-long waitings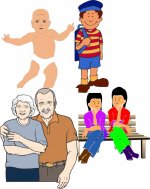 Tue, 27 Nov 2018
They're waiting 'til their hands can stretch
to grasp those things just out of reach,
or wriggle more towards those toys,
or walk around like bigger boys.
Soon waiting an approaching day
when they can go to school to play.
Then waiting 'til the end of term,
or for the time when they can earn.
And later waiting to leave home,
though knowing they rely on Mum
to get the washing, cleaning done,
and rents will take a tidy sum.
She's waiting for her baby's birth,
the cry upon the newborn breath,
then waiting for the child to walk,
and jump, and hop, and run, and talk.
When older waiting to afford
a better home, or things to hoard.
He's waiting for retirement
– she's planning how it could be spent.
And further on they wait – for what?
The best of this life's not a lot,
the worst will hurt, bring emptiness,
brief touches of felt happiness.
But even in our feeble years,
we can grasp hold, wait without fears
for full fulfilment after death,
or when our Christ returns to earth.
[IP: waiting]