Locked-Down Opposition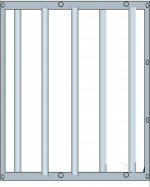 Wed, 24 Feb 2021
and locked-down lockers-up
Locked down in prison – they cannot fly,
cannot scan the internet a luxury to buy,
cannot speak to friends or gather in the park,
many hours all alone in silent dark,
deprived of liberty and comfort – thrust
(not for an action violent, or lust,
or plans to kill or terrorise or rob)
into a cell because the hatred of a mob
for views expressed and held –
the captors think to force
acceptance of a different creed and course,
and so arrest and maybe torture, want to kill
free speech, free thought, free will.
    – Who loses most? What is the cost?
    of malice that condemns all opposition
    allowing no intelligent discussion
    to checkout what their buddies say
    and not let falsehood have its way (and sway)
    and locks down all its followers – caught
    to live with prison bars of censured thought.