Loo Tool (Poetry Monthly)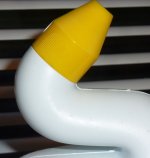 Thu, 03 Sep 2015
Give a good squirt
under the rim
to destroy germs and dirt
with chemical vim;
a 4-in-1 toilet gun
with the neck of a 'duck'
to shoot any muck
that may have got stuck
where the water comes in.
1. lethal to bugs (99.9%?)
(necessary?)
(Well, certainly of use
their quantity to reduce!)
2. removes lime-scale
3. freshens (from odours?)
(smell of a drain?)
4. cleans above and below
the waterline
ie down the bend,
and around the bowl,
erasing the stain.
And while it works,
your bathroom smells
of ocean air,
or forest pines,
or citrus scent,
they say;
though some dislike
this odd, intense
and cloying pretense
at seaside breeze,
or lemon trees:
elusive allure
of the country without its manure!
[Poetry Monthly - work on found lists, ads, bills, etc.]