The Old Oak Chair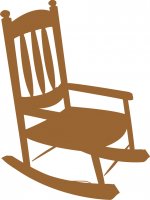 Tue, 26 Jul 2016
Beneath the surface
of the old oak chair,
a little maggot nibbled, chewed
a tiny tunnel there.
For years the maggot grew,
the tunnels lengthened well,
but then, one day, it felt mature
and chewed a wider cell.
There, just inside, it slept
to change its shape, transform –            
become a beetle brown, no more
a white and grub-by 'worm'.
It woke and cut a hole
out through into the air –
a tell-tale round, distinctive mark
left saw-dust on the chair.
It mated soon, and eggs
were laid inside a crack
upon the wooden chair, to hatch,
extending the attack …
And when the chair collapsed,
they broke it up to show,
the hidden, tunnelled maze
of subways down below.
[IP: beneath the surface]