Return to Sender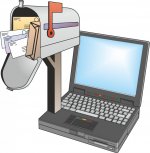 Sat, 26 May 2018
I typed my email and addressed it,
and sent it on its way
but very soon, into my Inbox
it bounced back there to stay –
    by "Mailer-daemon":
    no such address
    this contact does not
    this named account possess.
        Please check your spelling,
        and spaces too,
        they may have closed it,
        without informing you!
He typed an email and then 'sent' it,
but later from afar
into the 'Inbox' came an answer
– 'I don't know who you are!'
    I live in Moscow,
    Do you know me?
    Was this note meant for
    someone else, maybe?!
        For many others
        share my name,
        but for a number,
        each address is the same!