Sleep Refreshment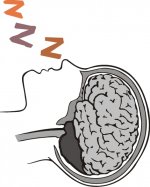 Sat, 12 Sep 2015
There are no lymphatic tubes in the brain
for waste to be collected, and drain
away, but when we are asleep
the cells shrink back, and more of the fluid*
enveloping externally can sweep
in around the walls of the vessels
which bring blood
with its oxygen and food.
This cleansing liquid
flows inward, rushing,
removing bad things,
internally flushing,
refreshing and clearing the mind
while we sleep and dream.
– How elegantly and ingeniously designed!
*cerebrospinal fluid