The way it should be (childhood rituals)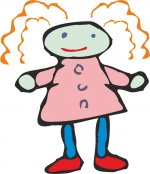 Thu, 17 Jun 2021
Walking up to Nursery
– Grandpa in tow,
going down at last the steps –
'I go first you know' –
– mutter not by Grandpa heard,
behind him Mums press in,
hurries down – the little girl
goes into a wobbly spin.
Throws a tantrum, goes all limp,
Grandpa lifts her off,
'What's the problem? I don't know' –
she howls – he says 'enough!'.
In the end he has to ask
would she rather go back home?
Reluctantly she quietens down –
she loves her Nursery fun.
-----------------------------
A few days later yet again,
Grandpa takes her in.
Constantly along the road
the girl reminded him
she must be first going down the steps
'Do not forget!' 'and if I do?'
'I will be very angry!' –
– her ritual he now knew!