Relics of the Gods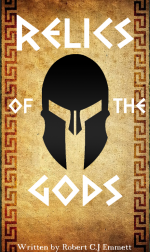 Mon, 22 Feb 2021
As she rose from the dirt bloodied and bruised. wearing a white tunic with golden sandals and a golden belt, Atheas looks at her father, Lysander, the general of the spartan army and commander of the greatest force Sparta has ever seen. "Again!" He shouts, Atheas takes a deep breath and again she tries to strike her father but is unsuccessful again and again as he knocks her on her back over and over, "Stand Atheas", as she stands to her feet frustrated and angry her father says, "you are getting stronger daughter, your training is coming along nicely". Atheas replies, "I am ready for the trials fath--" "NO!" Lysander cuts across Atheas, "the spartan army is no place for a woman I have told you many times, your training is merely to protect you and your mother when your brothers and I are not around", "but fath—NO!" Lysander again cuts across Atheas, "that will be the end of it I will hear no more, now go get cleaned up for supper", Atheas hangs her head in frustration and walks away.
Across the courtyard her brothers Perseus and Odysseus continue their training under their fathers eye,  Perseus the older of the two brothers is more experienced in battle but smaller than his brother Odysseus in physicality but excels in speed and explosive-ness and master of the long spear and shield, his younger brother Perseus is a specimen of strength and power, he is the greatest swordsman in Sparta, having both been trained by their father Lysander they are both in line to become the next spartan general. As they both lunge at one another over and over their father calls a stop to their training and tells them to make their way inside for supper.
Standing alone in the courtyard, Lysander pulls out an object from under his cloth and admires it, it looks to be a silver coin with what seems to be a picture of a hand. But the last two fingers are missing as the coin is broken in half there is an inscription on the coin that reads "of a God" as the first half of the inscription is on the broken missing piece of the coin. "Lysander! That is enough training for today come inside It is time for supper", calls Alexandra the wife of Lysander, tall with long blonde hair and blue eyes she was the most beautiful woman in Sparta, her knowledge was also invaluable, as her father before Lysander, was the spartan general, as his only daughter he would tell her of the tails of his battles and his plans for Sparta once the wars had ended. Startled by his wife Lysander quickly puts the half-broken coin back into his cloth and turns with a smile and walks inside.
The family of five take their seats around the table for a nice supper of black broth and bread. After supper the two brothers and Lysander head to the courtyard and take their seats around a wooden table were their weapons lay to discuss battle plans for their upcoming battle in Notium, discussing naval plans and strategies along with numbers of spartan warriors and defences, from her bedroom Atheas can hear what her father and brothers are discussing, gaining knowledge of war and tactics, something she is not permitted to hear, she stands and walks to her table were her sword lay and unsheathes it.
A beautiful golden handle and a traditional spartan short blade known as a Xiphos, Atheas practices her defensive stance when she hears arguing from the courtyard, she runs to her window and sees her brothers with their swords in hand almost awaiting an enemy charge. From the shadowy corner of the courtyard entrance a cloaked man walks in, "what is a Persian doing in Sparta", says Perseus. "HOLD!" Shouts Lysander. The cloaked man was Cyrus the Younger, the son of the Persian general Darius II of Persia. "I invited him", said Lysander. "Father why would you ask a Persian into our home, if the other Spartans found out this would cost you your title of general", said Odysseus, "stand down my son's I have business to discuss with Cyrus now leave us and I will speak with you later", "but fath" – "LEAVE US!" Lysander shouts with a commanding tone in his voice.
The two brothers look at one another and make their way into the house. Atheas runs to her brothers from upstairs, "who is that man?" She asks her brothers, "leave us sister, we need to prepare for our next battle" said Perseus. She turns and looks to the courtyard and notices Cyrus take a piece of parchment from under his cloak and hand it to Lysander, she has a look of curiosity on her face as she sees this, "come Atheas time for bed", her mother calls, she returns back upstairs to her room and returns to her window to try and listen to what her father and Cyrus are discussing but she can only here the sound of whispers as both men are speaking with caution, she climbs into her bed and falls asleep.  Downstairs at the front of the house the two brothers sharpen their swords and shine their Armor for the upcoming battles, "why is he here?" asks Odysseus, "I do not know but I'm sure father has his reasons, he knows the risks he is taking inviting him here", said Perseus.
Meanwhile in the courtyard as Cyrus hands the parchment to Lysander he unravels it and begins to read, "so it is true, they do exist?" Said Lysander. "Yes, they are real", replied Cyrus. "Do you know who it belonged to?" Asked Lysander. "I have it on good authority it belonged to the fallen God", replied Cyrus. With a stunned look on his face Lysander replied, "the fallen god, Hermes, where is it?" He asked. "I still have my spies working on that part as it is not an easy challenge to locate these items, they are hidden for a reason, we will continue this another time I must go before I am seen", Cyrus threw his cloak around his shoulders and walked off into the darkness, leaving Lysander contemplating what to do next, he has a war he must be prepared for over the coming weeks or does he abandon his duty as general and go in search of this mysterious item in which him and Cyrus have been discussing.
The next morning Atheas awakes to her brothers arguing, she jumps from her bed and makes her way down the stairs, "what's going on?" she asks. "Father is gone replied Perseus, he left in the middle of the night". "where did he go?" asked Atheas. "we do not know". "His battle Armor is gone to", said Odysseus, "we need to go and find him now before something happens to him", "no Odysseus we need to remain here with the Spartans and prepare them for the battle otherwise all is lost, and Sparta will fall to the Persians". "I will go" demanded Atheas, "I will go and find father", "No sister you are not capable of defending yourself outside the walls of Sparta, you have never been outside the walls, you wouldn't last one day on your own", said Perseus.
"That is not true I am more than capable of defending myself, my training is going better than ever and I won't be alone I will have Sirosa with me, he is as good as any spartan warrior, I know he will help me, anyway you both need to stay and command the army and prepare them for the battle of Notium until father returns". "Ok little sister but be careful and take this with you". Perseus hands Atheas a spartan shield encrusted with gold and a figure of Hercules fighting the Nemean lion, "this was your grandfathers he had this shield all his life, use it well and let it protect you from your enemies, now go say goodbye to mother before you go". Atheas walks inside to find her mother making breakfast, "moth"- "I know", Alexandra interrupts, "I know it is you who must find your father, your brothers must stay and prepare for war in your fathers place, just please be careful Atheas, it is very dangerous outside the walls of Sparta there is all manner of creatures and enemies".
"I will be careful mother you do not need to worry about me", Atheas replied with a nervous quiver in her voice, this would be the first time Atheas would leave home and go beyond the walls of Sparta, she knew what lay beyond the walls. Creatures of half man half bull known as the Minotaur's. The Sphinx, A half human, half lion who would slay anybody who did not answer her riddles The Chimera, A monstrous fire-breathing hybrid creature with the body of a lion, the head of a goat, and a tail with a snake's head.The Sirens, creatures that sing so beautiful they lure anyone passing by to their death.
Atheas would need a true spartan solider to help her on her quest to find her father, if she was to face anyone of these creatures, they could all kill her with a single swipe, and who better than her best friend Sirosa. Sirosa was one of the best spartan soldier's Greece had ever seen, he was over 6ft tall and one of the strongest men in Greece, with a bald head and his specialty weapons were two Xiphos swords and a spartan shield encrusted with silver trimming and a carving of Zeus throwing a lightning bolt. Before she leaves Atheas is stopped by Perseus, "Atheas before you go, I need to tell you something", "what is it", she asks. Perseus replies, "last night when that man came to see father, that man is Cyrus the Younger, son of the Persian general Darius II of Persia". "WHAT! why would father be speaking with a Persian", shouted Atheas. "I do not know sister but I heard them speak of Mount Olympus it may be nothing but that could be were father has gone", "Mount Olympus why would father be going there, Mortals are not permitted to ascend Mount Olympus", says Atheas. Perseus replies, "I do not know, but please be vigilante if you are to travel to Mount Olympus it will be extremely dangerous".
As Atheas makes her way to meet with Sirosa, she couldn't help but think why they would be going to Mount Olympus, it seemed strange. Atheas hears someone calling her name from the distance, she turns and sees Sirosa, she runs to him and gives him a hug, best friends since they were children, "SIROSA!" She shouts, "it's so good to see you", "you too", says Sirosa, "it's been too long my friend", says Atheas, "I need your help". "sure, what can I do", asked Sirosa. "I need to find my father he has gone missing, we seen him last night before bed and woke this morning and he and his Armor were gone, my brother Perseus believes he may have gone to Mount Olympus, can you help me find him". Sirosa replies, "sure but why would he have gone to Mount Olympus, is there anything else that may give us an idea of where he has gone, is there anyone we may be able to talk to", asked Sirosa. "No there is no one else", said Atheas.
Failing to mention her father had spoken with Cyrus the Younger, she knew if she had told Sirosa about her father meeting with a Persian it would not be a rescue mission any longer that it would be a hunting mission, for Persians are Sparta's greatest enemies and to conspire or to even speak to them is punishable by death. "Ok", said Sirosa, "lets go, we will start our search in Argos, but we will need to be very careful the people of Argos are not very fond of Spartans, we will need to change our clothes if we want to blend with the crowd".
They change out of their normal spartan clothes and they change into what looks to be rags of clothes they found on the street, ripped trousers covered in dirt and hardened muck, the tops were no different, ripped full of holes and covered in dirt.
But if they wanted to travel to Argos, they would have to be unrecognisable. They make their way to a local merchant to buy supplies that will last them a few days until they arrive in Argos, they buy some Cereals, wine, olives and figs along with some cheese to keep their strength for the journey ahead. They stock up on supplies and they make their way to the walls of Sparta to begin their journey to Argos.